Warning
: preg_match(): Compilation failed: invalid range in character class at offset 4 in
/homepages/31/d217702339/htdocs/rebelattitude/wp-content/plugins/hover-pin-it/lib/simple_html_dom.php
on line
1110
Warning
: preg_match(): Compilation failed: invalid range in character class at offset 4 in
/homepages/31/d217702339/htdocs/rebelattitude/wp-content/plugins/hover-pin-it/lib/simple_html_dom.php
on line
1110
Warning
: preg_match(): Compilation failed: invalid range in character class at offset 4 in
/homepages/31/d217702339/htdocs/rebelattitude/wp-content/plugins/hover-pin-it/lib/simple_html_dom.php
on line
1110
Warning
: preg_match(): Compilation failed: invalid range in character class at offset 4 in
/homepages/31/d217702339/htdocs/rebelattitude/wp-content/plugins/hover-pin-it/lib/simple_html_dom.php
on line
1110
Warning
: preg_match(): Compilation failed: invalid range in character class at offset 4 in
/homepages/31/d217702339/htdocs/rebelattitude/wp-content/plugins/hover-pin-it/lib/simple_html_dom.php
on line
1110
Warning
: preg_match(): Compilation failed: invalid range in character class at offset 4 in
/homepages/31/d217702339/htdocs/rebelattitude/wp-content/plugins/hover-pin-it/lib/simple_html_dom.php
on line
1110
Warning
: preg_match(): Compilation failed: invalid range in character class at offset 4 in
/homepages/31/d217702339/htdocs/rebelattitude/wp-content/plugins/hover-pin-it/lib/simple_html_dom.php
on line
1110
Warning
: preg_match(): Compilation failed: invalid range in character class at offset 4 in
/homepages/31/d217702339/htdocs/rebelattitude/wp-content/plugins/hover-pin-it/lib/simple_html_dom.php
on line
1110
Warning
: preg_match(): Compilation failed: invalid range in character class at offset 4 in
/homepages/31/d217702339/htdocs/rebelattitude/wp-content/plugins/hover-pin-it/lib/simple_html_dom.php
on line
1110
Warning
: preg_match(): Compilation failed: invalid range in character class at offset 4 in
/homepages/31/d217702339/htdocs/rebelattitude/wp-content/plugins/hover-pin-it/lib/simple_html_dom.php
on line
1110
Warning
: preg_match(): Compilation failed: invalid range in character class at offset 4 in
/homepages/31/d217702339/htdocs/rebelattitude/wp-content/plugins/hover-pin-it/lib/simple_html_dom.php
on line
1110
Warning
: preg_match(): Compilation failed: invalid range in character class at offset 4 in
/homepages/31/d217702339/htdocs/rebelattitude/wp-content/plugins/hover-pin-it/lib/simple_html_dom.php
on line
1110
Warning
: preg_match(): Compilation failed: invalid range in character class at offset 4 in
/homepages/31/d217702339/htdocs/rebelattitude/wp-content/plugins/hover-pin-it/lib/simple_html_dom.php
on line
1110
Warning
: preg_match(): Compilation failed: invalid range in character class at offset 4 in
/homepages/31/d217702339/htdocs/rebelattitude/wp-content/plugins/hover-pin-it/lib/simple_html_dom.php
on line
1110
Warning
: preg_match(): Compilation failed: invalid range in character class at offset 4 in
/homepages/31/d217702339/htdocs/rebelattitude/wp-content/plugins/hover-pin-it/lib/simple_html_dom.php
on line
1110
Warning
: preg_match(): Compilation failed: invalid range in character class at offset 4 in
/homepages/31/d217702339/htdocs/rebelattitude/wp-content/plugins/hover-pin-it/lib/simple_html_dom.php
on line
1110
Warning
: preg_match(): Compilation failed: invalid range in character class at offset 4 in
/homepages/31/d217702339/htdocs/rebelattitude/wp-content/plugins/hover-pin-it/lib/simple_html_dom.php
on line
1110
Warning
: preg_match(): Compilation failed: invalid range in character class at offset 4 in
/homepages/31/d217702339/htdocs/rebelattitude/wp-content/plugins/hover-pin-it/lib/simple_html_dom.php
on line
1110
Warning
: preg_match(): Compilation failed: invalid range in character class at offset 4 in
/homepages/31/d217702339/htdocs/rebelattitude/wp-content/plugins/hover-pin-it/lib/simple_html_dom.php
on line
1110
Warning
: preg_match(): Compilation failed: invalid range in character class at offset 4 in
/homepages/31/d217702339/htdocs/rebelattitude/wp-content/plugins/hover-pin-it/lib/simple_html_dom.php
on line
1110
Warning
: preg_match(): Compilation failed: invalid range in character class at offset 4 in
/homepages/31/d217702339/htdocs/rebelattitude/wp-content/plugins/hover-pin-it/lib/simple_html_dom.php
on line
1110
Warning
: preg_match(): Compilation failed: invalid range in character class at offset 4 in
/homepages/31/d217702339/htdocs/rebelattitude/wp-content/plugins/hover-pin-it/lib/simple_html_dom.php
on line
1110
Warning
: preg_match(): Compilation failed: invalid range in character class at offset 4 in
/homepages/31/d217702339/htdocs/rebelattitude/wp-content/plugins/hover-pin-it/lib/simple_html_dom.php
on line
1110
Warning
: preg_match(): Compilation failed: invalid range in character class at offset 4 in
/homepages/31/d217702339/htdocs/rebelattitude/wp-content/plugins/hover-pin-it/lib/simple_html_dom.php
on line
1110
Warning
: preg_match(): Compilation failed: invalid range in character class at offset 4 in
/homepages/31/d217702339/htdocs/rebelattitude/wp-content/plugins/hover-pin-it/lib/simple_html_dom.php
on line
1110
Warning
: preg_match(): Compilation failed: invalid range in character class at offset 4 in
/homepages/31/d217702339/htdocs/rebelattitude/wp-content/plugins/hover-pin-it/lib/simple_html_dom.php
on line
1110
Warning
: preg_match(): Compilation failed: invalid range in character class at offset 4 in
/homepages/31/d217702339/htdocs/rebelattitude/wp-content/plugins/hover-pin-it/lib/simple_html_dom.php
on line
1110
Warning
: preg_match(): Compilation failed: invalid range in character class at offset 4 in
/homepages/31/d217702339/htdocs/rebelattitude/wp-content/plugins/hover-pin-it/lib/simple_html_dom.php
on line
1110
Warning
: preg_match(): Compilation failed: invalid range in character class at offset 4 in
/homepages/31/d217702339/htdocs/rebelattitude/wp-content/plugins/hover-pin-it/lib/simple_html_dom.php
on line
1110
Warning
: preg_match(): Compilation failed: invalid range in character class at offset 4 in
/homepages/31/d217702339/htdocs/rebelattitude/wp-content/plugins/hover-pin-it/lib/simple_html_dom.php
on line
1110
Warning
: preg_match(): Compilation failed: invalid range in character class at offset 4 in
/homepages/31/d217702339/htdocs/rebelattitude/wp-content/plugins/hover-pin-it/lib/simple_html_dom.php
on line
1110
Warning
: preg_match(): Compilation failed: invalid range in character class at offset 4 in
/homepages/31/d217702339/htdocs/rebelattitude/wp-content/plugins/hover-pin-it/lib/simple_html_dom.php
on line
1110
Warning
: preg_match(): Compilation failed: invalid range in character class at offset 4 in
/homepages/31/d217702339/htdocs/rebelattitude/wp-content/plugins/hover-pin-it/lib/simple_html_dom.php
on line
1110
Warning
: preg_match(): Compilation failed: invalid range in character class at offset 4 in
/homepages/31/d217702339/htdocs/rebelattitude/wp-content/plugins/hover-pin-it/lib/simple_html_dom.php
on line
1110
Warning
: preg_match(): Compilation failed: invalid range in character class at offset 4 in
/homepages/31/d217702339/htdocs/rebelattitude/wp-content/plugins/hover-pin-it/lib/simple_html_dom.php
on line
1110
Warning
: preg_match(): Compilation failed: invalid range in character class at offset 4 in
/homepages/31/d217702339/htdocs/rebelattitude/wp-content/plugins/hover-pin-it/lib/simple_html_dom.php
on line
1110
Warning
: preg_match(): Compilation failed: invalid range in character class at offset 4 in
/homepages/31/d217702339/htdocs/rebelattitude/wp-content/plugins/hover-pin-it/lib/simple_html_dom.php
on line
1110
Warning
: preg_match(): Compilation failed: invalid range in character class at offset 4 in
/homepages/31/d217702339/htdocs/rebelattitude/wp-content/plugins/hover-pin-it/lib/simple_html_dom.php
on line
1110
Warning
: preg_match(): Compilation failed: invalid range in character class at offset 4 in
/homepages/31/d217702339/htdocs/rebelattitude/wp-content/plugins/hover-pin-it/lib/simple_html_dom.php
on line
1110
Warning
: preg_match(): Compilation failed: invalid range in character class at offset 4 in
/homepages/31/d217702339/htdocs/rebelattitude/wp-content/plugins/hover-pin-it/lib/simple_html_dom.php
on line
1110
Warning
: preg_match(): Compilation failed: invalid range in character class at offset 4 in
/homepages/31/d217702339/htdocs/rebelattitude/wp-content/plugins/hover-pin-it/lib/simple_html_dom.php
on line
1110
Warning
: preg_match(): Compilation failed: invalid range in character class at offset 4 in
/homepages/31/d217702339/htdocs/rebelattitude/wp-content/plugins/hover-pin-it/lib/simple_html_dom.php
on line
1110
Warning
: preg_match(): Compilation failed: invalid range in character class at offset 4 in
/homepages/31/d217702339/htdocs/rebelattitude/wp-content/plugins/hover-pin-it/lib/simple_html_dom.php
on line
1110
Warning
: preg_match(): Compilation failed: invalid range in character class at offset 4 in
/homepages/31/d217702339/htdocs/rebelattitude/wp-content/plugins/hover-pin-it/lib/simple_html_dom.php
on line
1110
Warning
: preg_match(): Compilation failed: invalid range in character class at offset 4 in
/homepages/31/d217702339/htdocs/rebelattitude/wp-content/plugins/hover-pin-it/lib/simple_html_dom.php
on line
1110
Warning
: preg_match(): Compilation failed: invalid range in character class at offset 4 in
/homepages/31/d217702339/htdocs/rebelattitude/wp-content/plugins/hover-pin-it/lib/simple_html_dom.php
on line
1110
Warning
: preg_match(): Compilation failed: invalid range in character class at offset 4 in
/homepages/31/d217702339/htdocs/rebelattitude/wp-content/plugins/hover-pin-it/lib/simple_html_dom.php
on line
1110
Warning
: preg_match(): Compilation failed: invalid range in character class at offset 4 in
/homepages/31/d217702339/htdocs/rebelattitude/wp-content/plugins/hover-pin-it/lib/simple_html_dom.php
on line
1110
Warning
: preg_match(): Compilation failed: invalid range in character class at offset 4 in
/homepages/31/d217702339/htdocs/rebelattitude/wp-content/plugins/hover-pin-it/lib/simple_html_dom.php
on line
1110
Warning
: preg_match(): Compilation failed: invalid range in character class at offset 4 in
/homepages/31/d217702339/htdocs/rebelattitude/wp-content/plugins/hover-pin-it/lib/simple_html_dom.php
on line
1110
Warning
: preg_match(): Compilation failed: invalid range in character class at offset 4 in
/homepages/31/d217702339/htdocs/rebelattitude/wp-content/plugins/hover-pin-it/lib/simple_html_dom.php
on line
1110
Warning
: preg_match(): Compilation failed: invalid range in character class at offset 4 in
/homepages/31/d217702339/htdocs/rebelattitude/wp-content/plugins/hover-pin-it/lib/simple_html_dom.php
on line
1110
Warning
: preg_match(): Compilation failed: invalid range in character class at offset 4 in
/homepages/31/d217702339/htdocs/rebelattitude/wp-content/plugins/hover-pin-it/lib/simple_html_dom.php
on line
1110
Warning
: preg_match(): Compilation failed: invalid range in character class at offset 4 in
/homepages/31/d217702339/htdocs/rebelattitude/wp-content/plugins/hover-pin-it/lib/simple_html_dom.php
on line
1110
Warning
: preg_match(): Compilation failed: invalid range in character class at offset 4 in
/homepages/31/d217702339/htdocs/rebelattitude/wp-content/plugins/hover-pin-it/lib/simple_html_dom.php
on line
1110
Warning
: preg_match(): Compilation failed: invalid range in character class at offset 4 in
/homepages/31/d217702339/htdocs/rebelattitude/wp-content/plugins/hover-pin-it/lib/simple_html_dom.php
on line
1110
Warning
: preg_match(): Compilation failed: invalid range in character class at offset 4 in
/homepages/31/d217702339/htdocs/rebelattitude/wp-content/plugins/hover-pin-it/lib/simple_html_dom.php
on line
1110
Warning
: preg_match(): Compilation failed: invalid range in character class at offset 4 in
/homepages/31/d217702339/htdocs/rebelattitude/wp-content/plugins/hover-pin-it/lib/simple_html_dom.php
on line
1110
Warning
: preg_match(): Compilation failed: invalid range in character class at offset 4 in
/homepages/31/d217702339/htdocs/rebelattitude/wp-content/plugins/hover-pin-it/lib/simple_html_dom.php
on line
1110
Warning
: preg_match(): Compilation failed: invalid range in character class at offset 4 in
/homepages/31/d217702339/htdocs/rebelattitude/wp-content/plugins/hover-pin-it/lib/simple_html_dom.php
on line
1110
Warning
: preg_match(): Compilation failed: invalid range in character class at offset 4 in
/homepages/31/d217702339/htdocs/rebelattitude/wp-content/plugins/hover-pin-it/lib/simple_html_dom.php
on line
1110
Warning
: preg_match(): Compilation failed: invalid range in character class at offset 4 in
/homepages/31/d217702339/htdocs/rebelattitude/wp-content/plugins/hover-pin-it/lib/simple_html_dom.php
on line
1110
Warning
: preg_match(): Compilation failed: invalid range in character class at offset 4 in
/homepages/31/d217702339/htdocs/rebelattitude/wp-content/plugins/hover-pin-it/lib/simple_html_dom.php
on line
1110
Warning
: preg_match(): Compilation failed: invalid range in character class at offset 4 in
/homepages/31/d217702339/htdocs/rebelattitude/wp-content/plugins/hover-pin-it/lib/simple_html_dom.php
on line
1110
Warning
: preg_match(): Compilation failed: invalid range in character class at offset 4 in
/homepages/31/d217702339/htdocs/rebelattitude/wp-content/plugins/hover-pin-it/lib/simple_html_dom.php
on line
1110
Warning
: preg_match(): Compilation failed: invalid range in character class at offset 4 in
/homepages/31/d217702339/htdocs/rebelattitude/wp-content/plugins/hover-pin-it/lib/simple_html_dom.php
on line
1110
Warning
: preg_match(): Compilation failed: invalid range in character class at offset 4 in
/homepages/31/d217702339/htdocs/rebelattitude/wp-content/plugins/hover-pin-it/lib/simple_html_dom.php
on line
1110
Warning
: preg_match(): Compilation failed: invalid range in character class at offset 4 in
/homepages/31/d217702339/htdocs/rebelattitude/wp-content/plugins/hover-pin-it/lib/simple_html_dom.php
on line
1110
Warning
: preg_match(): Compilation failed: invalid range in character class at offset 4 in
/homepages/31/d217702339/htdocs/rebelattitude/wp-content/plugins/hover-pin-it/lib/simple_html_dom.php
on line
1110
Warning
: preg_match(): Compilation failed: invalid range in character class at offset 4 in
/homepages/31/d217702339/htdocs/rebelattitude/wp-content/plugins/hover-pin-it/lib/simple_html_dom.php
on line
1110
Warning
: preg_match(): Compilation failed: invalid range in character class at offset 4 in
/homepages/31/d217702339/htdocs/rebelattitude/wp-content/plugins/hover-pin-it/lib/simple_html_dom.php
on line
1110
Warning
: preg_match(): Compilation failed: invalid range in character class at offset 4 in
/homepages/31/d217702339/htdocs/rebelattitude/wp-content/plugins/hover-pin-it/lib/simple_html_dom.php
on line
1110
Warning
: preg_match(): Compilation failed: invalid range in character class at offset 4 in
/homepages/31/d217702339/htdocs/rebelattitude/wp-content/plugins/hover-pin-it/lib/simple_html_dom.php
on line
1110
Warning
: preg_match(): Compilation failed: invalid range in character class at offset 4 in
/homepages/31/d217702339/htdocs/rebelattitude/wp-content/plugins/hover-pin-it/lib/simple_html_dom.php
on line
1110
Warning
: preg_match(): Compilation failed: invalid range in character class at offset 4 in
/homepages/31/d217702339/htdocs/rebelattitude/wp-content/plugins/hover-pin-it/lib/simple_html_dom.php
on line
1110
Warning
: preg_match(): Compilation failed: invalid range in character class at offset 4 in
/homepages/31/d217702339/htdocs/rebelattitude/wp-content/plugins/hover-pin-it/lib/simple_html_dom.php
on line
1110
Warning
: preg_match(): Compilation failed: invalid range in character class at offset 4 in
/homepages/31/d217702339/htdocs/rebelattitude/wp-content/plugins/hover-pin-it/lib/simple_html_dom.php
on line
1110
Warning
: preg_match(): Compilation failed: invalid range in character class at offset 4 in
/homepages/31/d217702339/htdocs/rebelattitude/wp-content/plugins/hover-pin-it/lib/simple_html_dom.php
on line
1110
Warning
: preg_match(): Compilation failed: invalid range in character class at offset 4 in
/homepages/31/d217702339/htdocs/rebelattitude/wp-content/plugins/hover-pin-it/lib/simple_html_dom.php
on line
1110
Warning
: preg_match(): Compilation failed: invalid range in character class at offset 4 in
/homepages/31/d217702339/htdocs/rebelattitude/wp-content/plugins/hover-pin-it/lib/simple_html_dom.php
on line
1110
Warning
: preg_match(): Compilation failed: invalid range in character class at offset 4 in
/homepages/31/d217702339/htdocs/rebelattitude/wp-content/plugins/hover-pin-it/lib/simple_html_dom.php
on line
1110
Warning
: preg_match(): Compilation failed: invalid range in character class at offset 4 in
/homepages/31/d217702339/htdocs/rebelattitude/wp-content/plugins/hover-pin-it/lib/simple_html_dom.php
on line
1110
Warning
: preg_match(): Compilation failed: invalid range in character class at offset 4 in
/homepages/31/d217702339/htdocs/rebelattitude/wp-content/plugins/hover-pin-it/lib/simple_html_dom.php
on line
1110
Warning
: preg_match(): Compilation failed: invalid range in character class at offset 4 in
/homepages/31/d217702339/htdocs/rebelattitude/wp-content/plugins/hover-pin-it/lib/simple_html_dom.php
on line
1110
Warning
: preg_match(): Compilation failed: invalid range in character class at offset 4 in
/homepages/31/d217702339/htdocs/rebelattitude/wp-content/plugins/hover-pin-it/lib/simple_html_dom.php
on line
1110
Warning
: preg_match(): Compilation failed: invalid range in character class at offset 4 in
/homepages/31/d217702339/htdocs/rebelattitude/wp-content/plugins/hover-pin-it/lib/simple_html_dom.php
on line
1110
Warning
: preg_match(): Compilation failed: invalid range in character class at offset 4 in
/homepages/31/d217702339/htdocs/rebelattitude/wp-content/plugins/hover-pin-it/lib/simple_html_dom.php
on line
1110
Warning
: preg_match(): Compilation failed: invalid range in character class at offset 4 in
/homepages/31/d217702339/htdocs/rebelattitude/wp-content/plugins/hover-pin-it/lib/simple_html_dom.php
on line
1110
Warning
: preg_match(): Compilation failed: invalid range in character class at offset 4 in
/homepages/31/d217702339/htdocs/rebelattitude/wp-content/plugins/hover-pin-it/lib/simple_html_dom.php
on line
1110
Warning
: preg_match(): Compilation failed: invalid range in character class at offset 4 in
/homepages/31/d217702339/htdocs/rebelattitude/wp-content/plugins/hover-pin-it/lib/simple_html_dom.php
on line
1110
Warning
: preg_match(): Compilation failed: invalid range in character class at offset 4 in
/homepages/31/d217702339/htdocs/rebelattitude/wp-content/plugins/hover-pin-it/lib/simple_html_dom.php
on line
1110
Warning
: preg_match(): Compilation failed: invalid range in character class at offset 4 in
/homepages/31/d217702339/htdocs/rebelattitude/wp-content/plugins/hover-pin-it/lib/simple_html_dom.php
on line
1110
Warning
: preg_match(): Compilation failed: invalid range in character class at offset 4 in
/homepages/31/d217702339/htdocs/rebelattitude/wp-content/plugins/hover-pin-it/lib/simple_html_dom.php
on line
1110
Warning
: preg_match_all(): Compilation failed: invalid range in character class at offset 4 in
/homepages/31/d217702339/htdocs/rebelattitude/wp-content/plugins/hover-pin-it/lib/simple_html_dom.php
on line
618
Warning
: Invalid argument supplied for foreach() in
/homepages/31/d217702339/htdocs/rebelattitude/wp-content/plugins/hover-pin-it/lib/simple_html_dom.php
on line
625
Warning
: preg_match_all(): Compilation failed: invalid range in character class at offset 4 in
/homepages/31/d217702339/htdocs/rebelattitude/wp-content/plugins/hover-pin-it/lib/simple_html_dom.php
on line
618
Warning
: Invalid argument supplied for foreach() in
/homepages/31/d217702339/htdocs/rebelattitude/wp-content/plugins/hover-pin-it/lib/simple_html_dom.php
on line
625
Today this post can be maybe too long, however I hope it isn´t too boring. I want to show you two different styles for the same day: the first one is more elegant for a working day – I wore it for something special that I´ll already tell you next week-.  And the second one is more practical to go for a walk after finishing your work.  The common base is a hippie skirt and a pair of aubergine color tights.
Whic one do you prefer?
Hoy me ha salido un post un poco largo, espero no aburriros.  Quería mostraros dos estilos distintos para un mismo día: el primero es más elegante para ir a la oficina -yo lo utilicé para algo más especial que ya os contaré la semana que viene- y el segundo es más práctico para dar un paseíto por el parque tras un agotador día de trabajo.  La base común es una falda hippie y unas medias color berenjena.
Y como para gustos son los colores… ¿qué look os gusta más?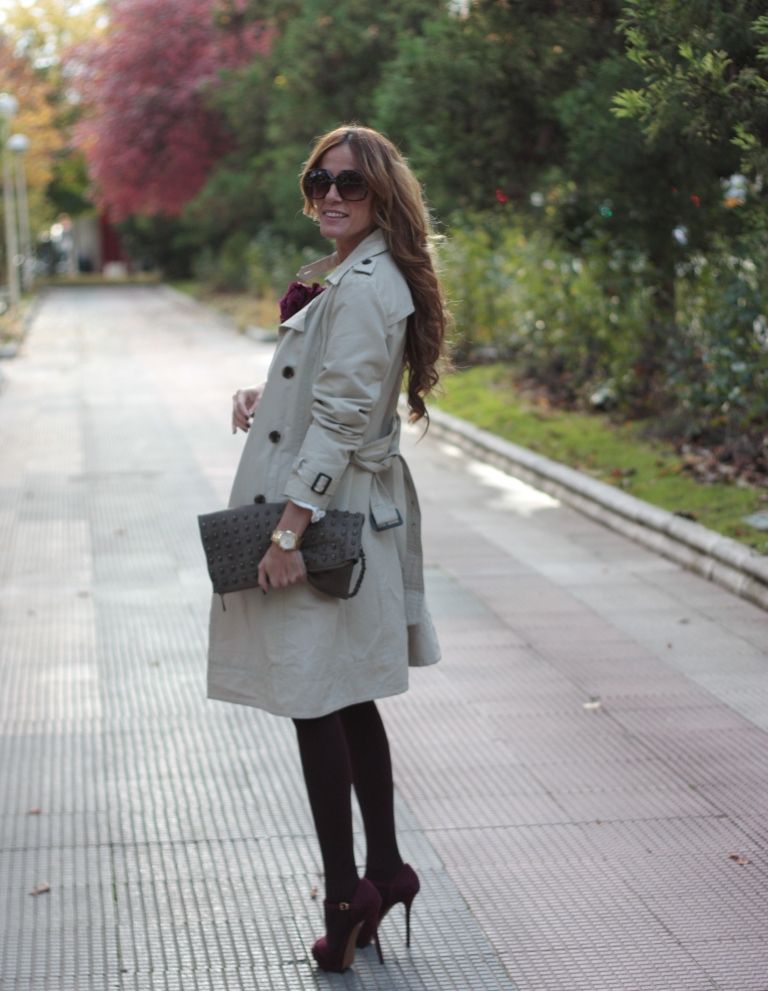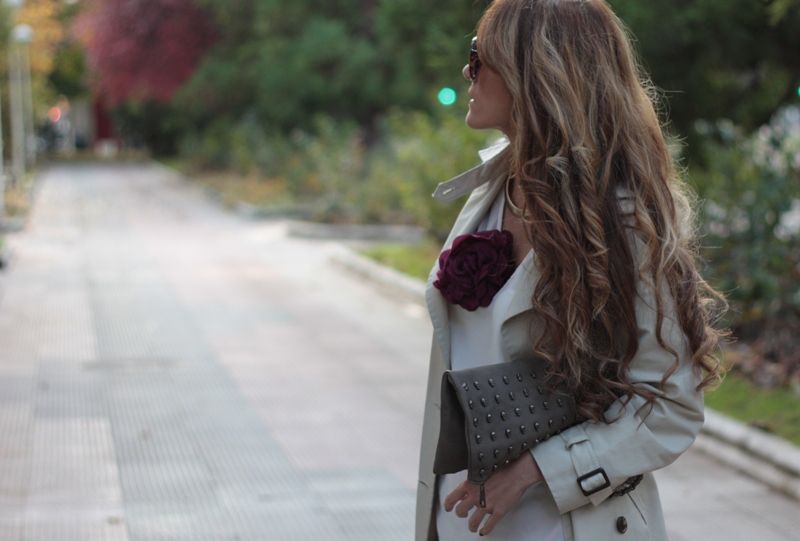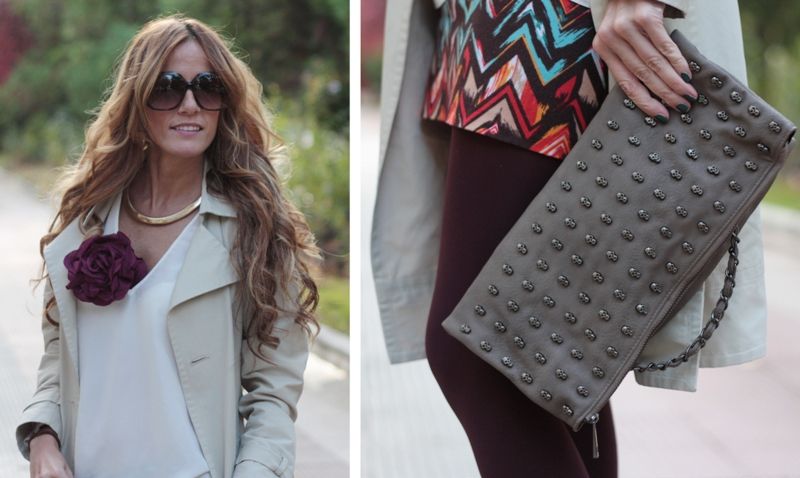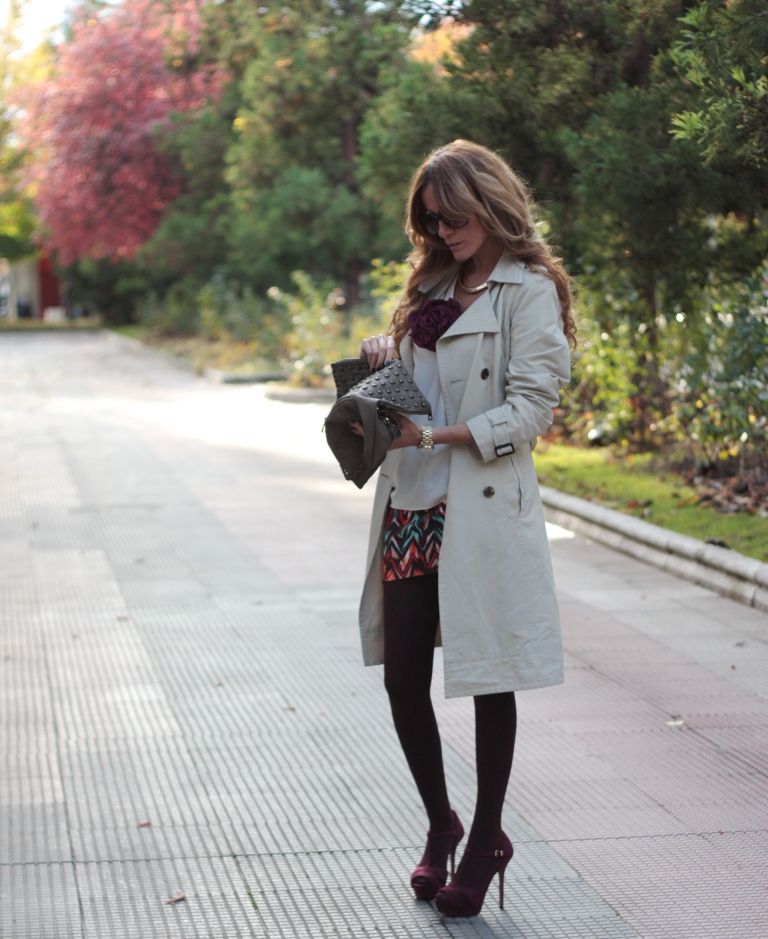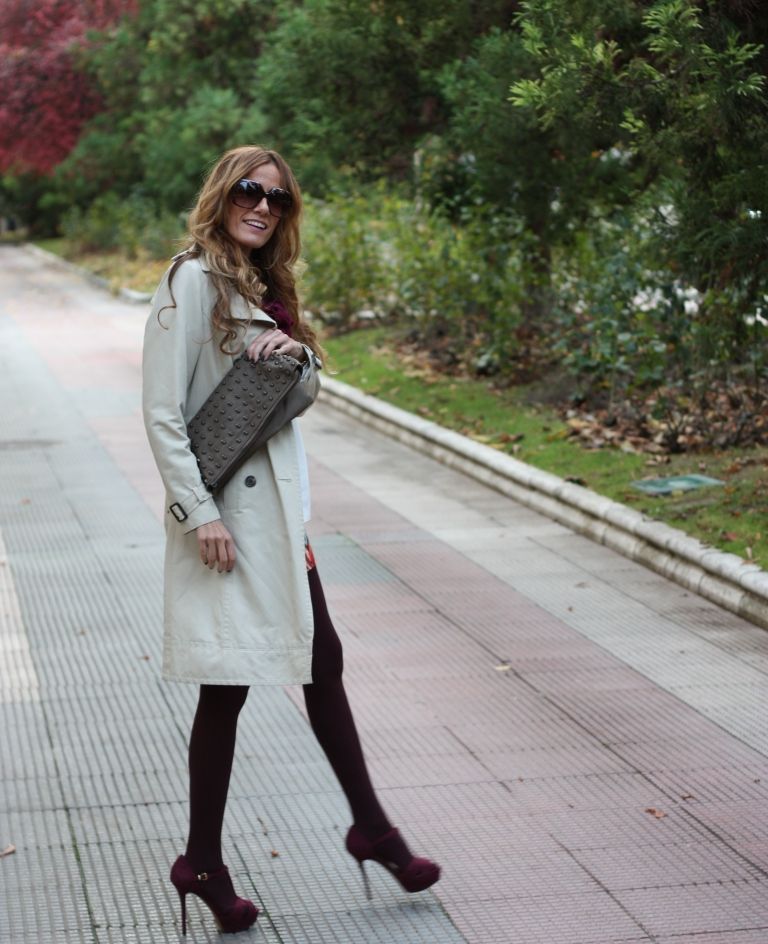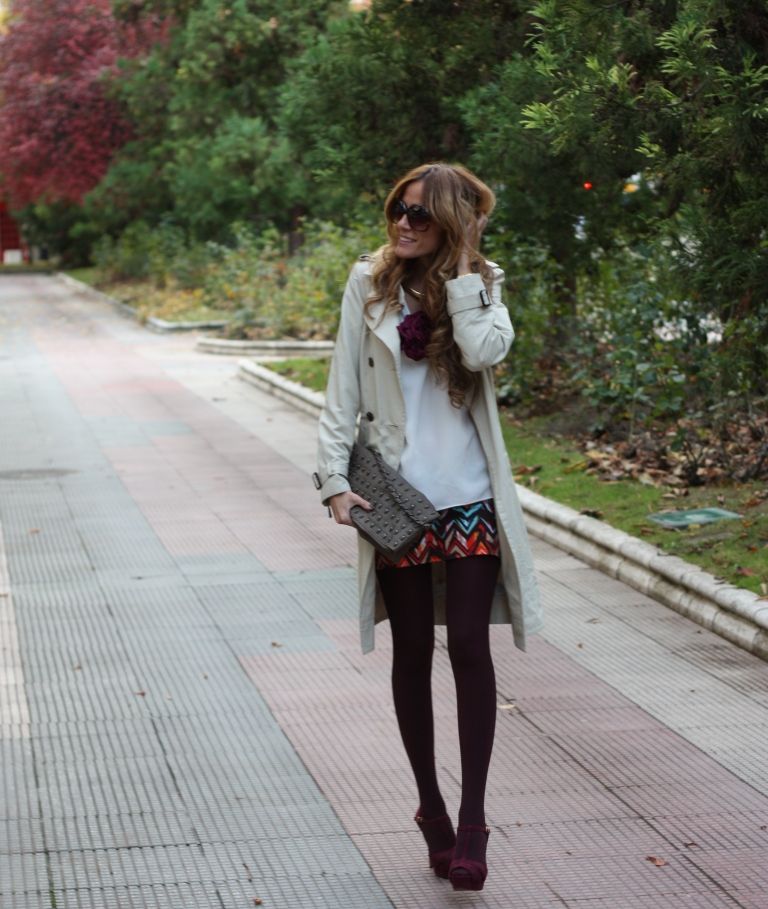 2ND STYLE: TO TAKE A REST!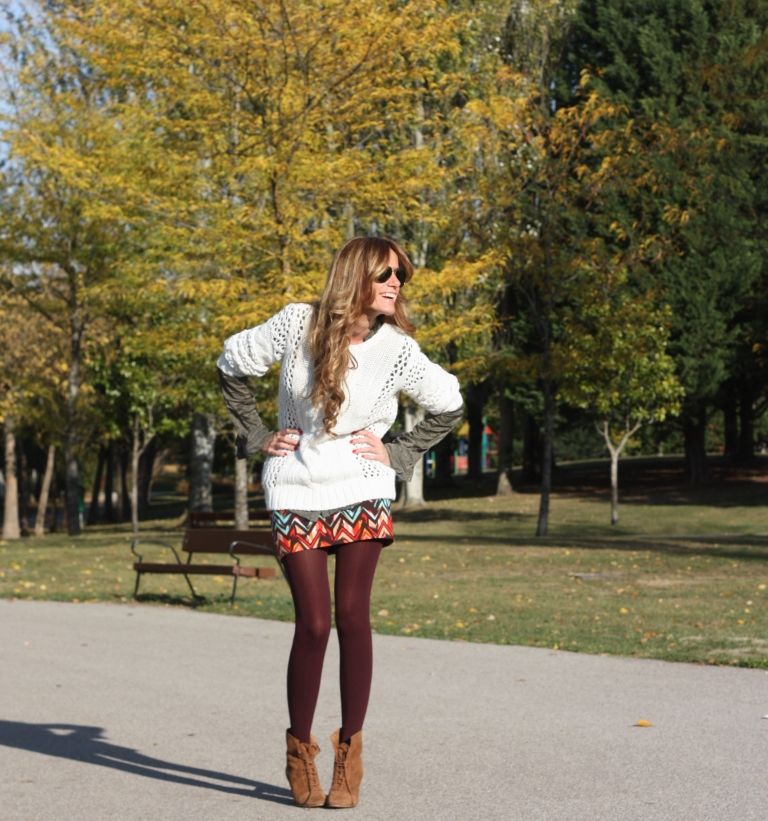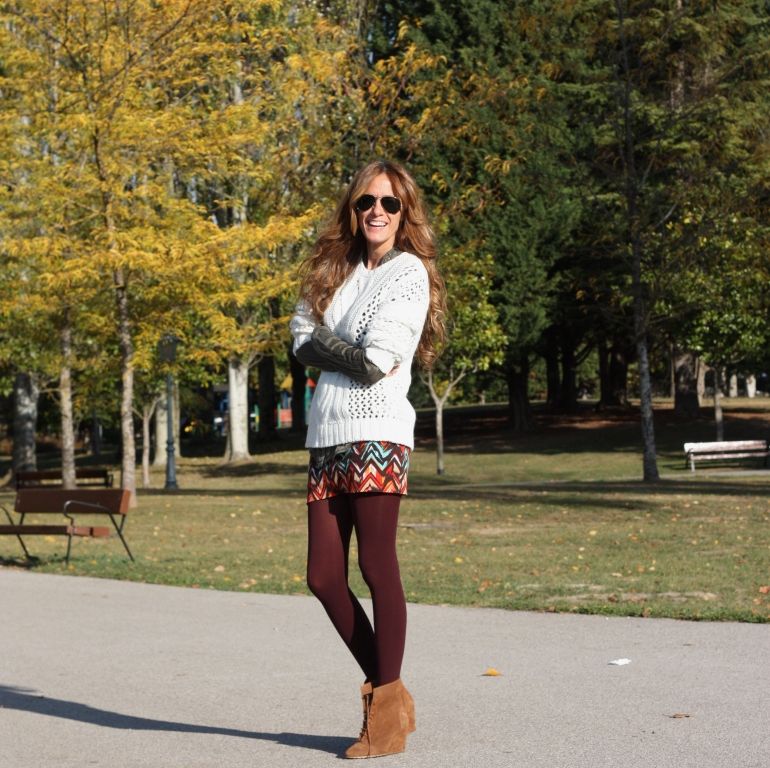 LOOK 1
Falda – skirt – Windsor
Camisa&flor&gabardina – shirt&flower&trench – Zara (old)
Zapatos – heels – Zara (new)
Bolso – bag – Coosy
Collar – necklace – Forever 21
Gafas – shades – Juanjo Oliva via YFSpain 
LOOK 2
Jersey – sweater – Pull&Bear (new)
Camisa – shirt – Stradivarius (old)
Cuñas – wedges – Zara (old)