Warning
: preg_match(): Compilation failed: invalid range in character class at offset 4 in
/homepages/31/d217702339/htdocs/rebelattitude/wp-content/plugins/hover-pin-it/lib/simple_html_dom.php
on line
1110
Warning
: preg_match(): Compilation failed: invalid range in character class at offset 4 in
/homepages/31/d217702339/htdocs/rebelattitude/wp-content/plugins/hover-pin-it/lib/simple_html_dom.php
on line
1110
Warning
: preg_match(): Compilation failed: invalid range in character class at offset 4 in
/homepages/31/d217702339/htdocs/rebelattitude/wp-content/plugins/hover-pin-it/lib/simple_html_dom.php
on line
1110
Warning
: preg_match(): Compilation failed: invalid range in character class at offset 4 in
/homepages/31/d217702339/htdocs/rebelattitude/wp-content/plugins/hover-pin-it/lib/simple_html_dom.php
on line
1110
Warning
: preg_match(): Compilation failed: invalid range in character class at offset 4 in
/homepages/31/d217702339/htdocs/rebelattitude/wp-content/plugins/hover-pin-it/lib/simple_html_dom.php
on line
1110
Warning
: preg_match(): Compilation failed: invalid range in character class at offset 4 in
/homepages/31/d217702339/htdocs/rebelattitude/wp-content/plugins/hover-pin-it/lib/simple_html_dom.php
on line
1110
Warning
: preg_match(): Compilation failed: invalid range in character class at offset 4 in
/homepages/31/d217702339/htdocs/rebelattitude/wp-content/plugins/hover-pin-it/lib/simple_html_dom.php
on line
1110
Warning
: preg_match(): Compilation failed: invalid range in character class at offset 4 in
/homepages/31/d217702339/htdocs/rebelattitude/wp-content/plugins/hover-pin-it/lib/simple_html_dom.php
on line
1110
Warning
: preg_match(): Compilation failed: invalid range in character class at offset 4 in
/homepages/31/d217702339/htdocs/rebelattitude/wp-content/plugins/hover-pin-it/lib/simple_html_dom.php
on line
1110
Warning
: preg_match(): Compilation failed: invalid range in character class at offset 4 in
/homepages/31/d217702339/htdocs/rebelattitude/wp-content/plugins/hover-pin-it/lib/simple_html_dom.php
on line
1110
Warning
: preg_match(): Compilation failed: invalid range in character class at offset 4 in
/homepages/31/d217702339/htdocs/rebelattitude/wp-content/plugins/hover-pin-it/lib/simple_html_dom.php
on line
1110
Warning
: preg_match(): Compilation failed: invalid range in character class at offset 4 in
/homepages/31/d217702339/htdocs/rebelattitude/wp-content/plugins/hover-pin-it/lib/simple_html_dom.php
on line
1110
Warning
: preg_match(): Compilation failed: invalid range in character class at offset 4 in
/homepages/31/d217702339/htdocs/rebelattitude/wp-content/plugins/hover-pin-it/lib/simple_html_dom.php
on line
1110
Warning
: preg_match(): Compilation failed: invalid range in character class at offset 4 in
/homepages/31/d217702339/htdocs/rebelattitude/wp-content/plugins/hover-pin-it/lib/simple_html_dom.php
on line
1110
Warning
: preg_match(): Compilation failed: invalid range in character class at offset 4 in
/homepages/31/d217702339/htdocs/rebelattitude/wp-content/plugins/hover-pin-it/lib/simple_html_dom.php
on line
1110
Warning
: preg_match(): Compilation failed: invalid range in character class at offset 4 in
/homepages/31/d217702339/htdocs/rebelattitude/wp-content/plugins/hover-pin-it/lib/simple_html_dom.php
on line
1110
Warning
: preg_match(): Compilation failed: invalid range in character class at offset 4 in
/homepages/31/d217702339/htdocs/rebelattitude/wp-content/plugins/hover-pin-it/lib/simple_html_dom.php
on line
1110
Warning
: preg_match(): Compilation failed: invalid range in character class at offset 4 in
/homepages/31/d217702339/htdocs/rebelattitude/wp-content/plugins/hover-pin-it/lib/simple_html_dom.php
on line
1110
Warning
: preg_match(): Compilation failed: invalid range in character class at offset 4 in
/homepages/31/d217702339/htdocs/rebelattitude/wp-content/plugins/hover-pin-it/lib/simple_html_dom.php
on line
1110
Warning
: preg_match(): Compilation failed: invalid range in character class at offset 4 in
/homepages/31/d217702339/htdocs/rebelattitude/wp-content/plugins/hover-pin-it/lib/simple_html_dom.php
on line
1110
Warning
: preg_match(): Compilation failed: invalid range in character class at offset 4 in
/homepages/31/d217702339/htdocs/rebelattitude/wp-content/plugins/hover-pin-it/lib/simple_html_dom.php
on line
1110
Warning
: preg_match(): Compilation failed: invalid range in character class at offset 4 in
/homepages/31/d217702339/htdocs/rebelattitude/wp-content/plugins/hover-pin-it/lib/simple_html_dom.php
on line
1110
Warning
: preg_match(): Compilation failed: invalid range in character class at offset 4 in
/homepages/31/d217702339/htdocs/rebelattitude/wp-content/plugins/hover-pin-it/lib/simple_html_dom.php
on line
1110
Warning
: preg_match(): Compilation failed: invalid range in character class at offset 4 in
/homepages/31/d217702339/htdocs/rebelattitude/wp-content/plugins/hover-pin-it/lib/simple_html_dom.php
on line
1110
Warning
: preg_match(): Compilation failed: invalid range in character class at offset 4 in
/homepages/31/d217702339/htdocs/rebelattitude/wp-content/plugins/hover-pin-it/lib/simple_html_dom.php
on line
1110
Warning
: preg_match(): Compilation failed: invalid range in character class at offset 4 in
/homepages/31/d217702339/htdocs/rebelattitude/wp-content/plugins/hover-pin-it/lib/simple_html_dom.php
on line
1110
Warning
: preg_match(): Compilation failed: invalid range in character class at offset 4 in
/homepages/31/d217702339/htdocs/rebelattitude/wp-content/plugins/hover-pin-it/lib/simple_html_dom.php
on line
1110
Warning
: preg_match(): Compilation failed: invalid range in character class at offset 4 in
/homepages/31/d217702339/htdocs/rebelattitude/wp-content/plugins/hover-pin-it/lib/simple_html_dom.php
on line
1110
Warning
: preg_match(): Compilation failed: invalid range in character class at offset 4 in
/homepages/31/d217702339/htdocs/rebelattitude/wp-content/plugins/hover-pin-it/lib/simple_html_dom.php
on line
1110
Warning
: preg_match(): Compilation failed: invalid range in character class at offset 4 in
/homepages/31/d217702339/htdocs/rebelattitude/wp-content/plugins/hover-pin-it/lib/simple_html_dom.php
on line
1110
Warning
: preg_match(): Compilation failed: invalid range in character class at offset 4 in
/homepages/31/d217702339/htdocs/rebelattitude/wp-content/plugins/hover-pin-it/lib/simple_html_dom.php
on line
1110
Warning
: preg_match(): Compilation failed: invalid range in character class at offset 4 in
/homepages/31/d217702339/htdocs/rebelattitude/wp-content/plugins/hover-pin-it/lib/simple_html_dom.php
on line
1110
Warning
: preg_match(): Compilation failed: invalid range in character class at offset 4 in
/homepages/31/d217702339/htdocs/rebelattitude/wp-content/plugins/hover-pin-it/lib/simple_html_dom.php
on line
1110
Warning
: preg_match(): Compilation failed: invalid range in character class at offset 4 in
/homepages/31/d217702339/htdocs/rebelattitude/wp-content/plugins/hover-pin-it/lib/simple_html_dom.php
on line
1110
Warning
: preg_match(): Compilation failed: invalid range in character class at offset 4 in
/homepages/31/d217702339/htdocs/rebelattitude/wp-content/plugins/hover-pin-it/lib/simple_html_dom.php
on line
1110
Warning
: preg_match(): Compilation failed: invalid range in character class at offset 4 in
/homepages/31/d217702339/htdocs/rebelattitude/wp-content/plugins/hover-pin-it/lib/simple_html_dom.php
on line
1110
Warning
: preg_match(): Compilation failed: invalid range in character class at offset 4 in
/homepages/31/d217702339/htdocs/rebelattitude/wp-content/plugins/hover-pin-it/lib/simple_html_dom.php
on line
1110
Warning
: preg_match(): Compilation failed: invalid range in character class at offset 4 in
/homepages/31/d217702339/htdocs/rebelattitude/wp-content/plugins/hover-pin-it/lib/simple_html_dom.php
on line
1110
Warning
: preg_match(): Compilation failed: invalid range in character class at offset 4 in
/homepages/31/d217702339/htdocs/rebelattitude/wp-content/plugins/hover-pin-it/lib/simple_html_dom.php
on line
1110
Warning
: preg_match(): Compilation failed: invalid range in character class at offset 4 in
/homepages/31/d217702339/htdocs/rebelattitude/wp-content/plugins/hover-pin-it/lib/simple_html_dom.php
on line
1110
Warning
: preg_match(): Compilation failed: invalid range in character class at offset 4 in
/homepages/31/d217702339/htdocs/rebelattitude/wp-content/plugins/hover-pin-it/lib/simple_html_dom.php
on line
1110
Warning
: preg_match(): Compilation failed: invalid range in character class at offset 4 in
/homepages/31/d217702339/htdocs/rebelattitude/wp-content/plugins/hover-pin-it/lib/simple_html_dom.php
on line
1110
Warning
: preg_match(): Compilation failed: invalid range in character class at offset 4 in
/homepages/31/d217702339/htdocs/rebelattitude/wp-content/plugins/hover-pin-it/lib/simple_html_dom.php
on line
1110
Warning
: preg_match(): Compilation failed: invalid range in character class at offset 4 in
/homepages/31/d217702339/htdocs/rebelattitude/wp-content/plugins/hover-pin-it/lib/simple_html_dom.php
on line
1110
Warning
: preg_match(): Compilation failed: invalid range in character class at offset 4 in
/homepages/31/d217702339/htdocs/rebelattitude/wp-content/plugins/hover-pin-it/lib/simple_html_dom.php
on line
1110
Warning
: preg_match(): Compilation failed: invalid range in character class at offset 4 in
/homepages/31/d217702339/htdocs/rebelattitude/wp-content/plugins/hover-pin-it/lib/simple_html_dom.php
on line
1110
Warning
: preg_match(): Compilation failed: invalid range in character class at offset 4 in
/homepages/31/d217702339/htdocs/rebelattitude/wp-content/plugins/hover-pin-it/lib/simple_html_dom.php
on line
1110
Warning
: preg_match(): Compilation failed: invalid range in character class at offset 4 in
/homepages/31/d217702339/htdocs/rebelattitude/wp-content/plugins/hover-pin-it/lib/simple_html_dom.php
on line
1110
Warning
: preg_match(): Compilation failed: invalid range in character class at offset 4 in
/homepages/31/d217702339/htdocs/rebelattitude/wp-content/plugins/hover-pin-it/lib/simple_html_dom.php
on line
1110
Warning
: preg_match(): Compilation failed: invalid range in character class at offset 4 in
/homepages/31/d217702339/htdocs/rebelattitude/wp-content/plugins/hover-pin-it/lib/simple_html_dom.php
on line
1110
Warning
: preg_match(): Compilation failed: invalid range in character class at offset 4 in
/homepages/31/d217702339/htdocs/rebelattitude/wp-content/plugins/hover-pin-it/lib/simple_html_dom.php
on line
1110
Warning
: preg_match(): Compilation failed: invalid range in character class at offset 4 in
/homepages/31/d217702339/htdocs/rebelattitude/wp-content/plugins/hover-pin-it/lib/simple_html_dom.php
on line
1110
Warning
: preg_match(): Compilation failed: invalid range in character class at offset 4 in
/homepages/31/d217702339/htdocs/rebelattitude/wp-content/plugins/hover-pin-it/lib/simple_html_dom.php
on line
1110
Warning
: preg_match(): Compilation failed: invalid range in character class at offset 4 in
/homepages/31/d217702339/htdocs/rebelattitude/wp-content/plugins/hover-pin-it/lib/simple_html_dom.php
on line
1110
Warning
: preg_match(): Compilation failed: invalid range in character class at offset 4 in
/homepages/31/d217702339/htdocs/rebelattitude/wp-content/plugins/hover-pin-it/lib/simple_html_dom.php
on line
1110
Warning
: preg_match(): Compilation failed: invalid range in character class at offset 4 in
/homepages/31/d217702339/htdocs/rebelattitude/wp-content/plugins/hover-pin-it/lib/simple_html_dom.php
on line
1110
Warning
: preg_match(): Compilation failed: invalid range in character class at offset 4 in
/homepages/31/d217702339/htdocs/rebelattitude/wp-content/plugins/hover-pin-it/lib/simple_html_dom.php
on line
1110
Warning
: preg_match(): Compilation failed: invalid range in character class at offset 4 in
/homepages/31/d217702339/htdocs/rebelattitude/wp-content/plugins/hover-pin-it/lib/simple_html_dom.php
on line
1110
Warning
: preg_match(): Compilation failed: invalid range in character class at offset 4 in
/homepages/31/d217702339/htdocs/rebelattitude/wp-content/plugins/hover-pin-it/lib/simple_html_dom.php
on line
1110
Warning
: preg_match(): Compilation failed: invalid range in character class at offset 4 in
/homepages/31/d217702339/htdocs/rebelattitude/wp-content/plugins/hover-pin-it/lib/simple_html_dom.php
on line
1110
Warning
: preg_match(): Compilation failed: invalid range in character class at offset 4 in
/homepages/31/d217702339/htdocs/rebelattitude/wp-content/plugins/hover-pin-it/lib/simple_html_dom.php
on line
1110
Warning
: preg_match(): Compilation failed: invalid range in character class at offset 4 in
/homepages/31/d217702339/htdocs/rebelattitude/wp-content/plugins/hover-pin-it/lib/simple_html_dom.php
on line
1110
Warning
: preg_match(): Compilation failed: invalid range in character class at offset 4 in
/homepages/31/d217702339/htdocs/rebelattitude/wp-content/plugins/hover-pin-it/lib/simple_html_dom.php
on line
1110
Warning
: preg_match(): Compilation failed: invalid range in character class at offset 4 in
/homepages/31/d217702339/htdocs/rebelattitude/wp-content/plugins/hover-pin-it/lib/simple_html_dom.php
on line
1110
Warning
: preg_match(): Compilation failed: invalid range in character class at offset 4 in
/homepages/31/d217702339/htdocs/rebelattitude/wp-content/plugins/hover-pin-it/lib/simple_html_dom.php
on line
1110
Warning
: preg_match(): Compilation failed: invalid range in character class at offset 4 in
/homepages/31/d217702339/htdocs/rebelattitude/wp-content/plugins/hover-pin-it/lib/simple_html_dom.php
on line
1110
Warning
: preg_match(): Compilation failed: invalid range in character class at offset 4 in
/homepages/31/d217702339/htdocs/rebelattitude/wp-content/plugins/hover-pin-it/lib/simple_html_dom.php
on line
1110
Warning
: preg_match(): Compilation failed: invalid range in character class at offset 4 in
/homepages/31/d217702339/htdocs/rebelattitude/wp-content/plugins/hover-pin-it/lib/simple_html_dom.php
on line
1110
Warning
: preg_match(): Compilation failed: invalid range in character class at offset 4 in
/homepages/31/d217702339/htdocs/rebelattitude/wp-content/plugins/hover-pin-it/lib/simple_html_dom.php
on line
1110
Warning
: preg_match(): Compilation failed: invalid range in character class at offset 4 in
/homepages/31/d217702339/htdocs/rebelattitude/wp-content/plugins/hover-pin-it/lib/simple_html_dom.php
on line
1110
Warning
: preg_match(): Compilation failed: invalid range in character class at offset 4 in
/homepages/31/d217702339/htdocs/rebelattitude/wp-content/plugins/hover-pin-it/lib/simple_html_dom.php
on line
1110
Warning
: preg_match_all(): Compilation failed: invalid range in character class at offset 4 in
/homepages/31/d217702339/htdocs/rebelattitude/wp-content/plugins/hover-pin-it/lib/simple_html_dom.php
on line
618
Warning
: Invalid argument supplied for foreach() in
/homepages/31/d217702339/htdocs/rebelattitude/wp-content/plugins/hover-pin-it/lib/simple_html_dom.php
on line
625
Warning
: preg_match_all(): Compilation failed: invalid range in character class at offset 4 in
/homepages/31/d217702339/htdocs/rebelattitude/wp-content/plugins/hover-pin-it/lib/simple_html_dom.php
on line
618
Warning
: Invalid argument supplied for foreach() in
/homepages/31/d217702339/htdocs/rebelattitude/wp-content/plugins/hover-pin-it/lib/simple_html_dom.php
on line
625
Last day I spent my afternoon in Jotaonce Bilbao, an urban&chic multibrand shop where I could see fantastic brands such us The hip tee, Reiko, Company&co…  In a few days, you will see my choices from this magic shop.
El otro día pasé una bonita tarde en Bilbao, y aproveché para visitar a Susana de Jotaonce Bilbao, una tienda multimarca urbana y chic en la calle Jardines 11 del Casco que me encanta.  Si vivís cerca, ¡animaos a visitarla, os la recomiendo 100%!
Es un espacio donde puedes encontrar la últimas tendencias nacionales e internacionales, francesas, italianas, alemanas, holandesas y suecas: American Vintage, The hip tee, Reiko, Company&co, Indi&Co, Twistt&Tango, One Green Elephant, Relish, Morgan…
No importa si no vivís en Bilbao, podéis ver y adquirir sus colecciones en su FACEBOOK pinchando aquí.  Susana, la creadora de Jotaonce Bilbao.
Dentro de algunos días veréis mis elecciones.  ¡Gracias Susana por asesorarme y ponérmelo tan fácil! ¡Qué ganas de volver a ver cositas nuevas!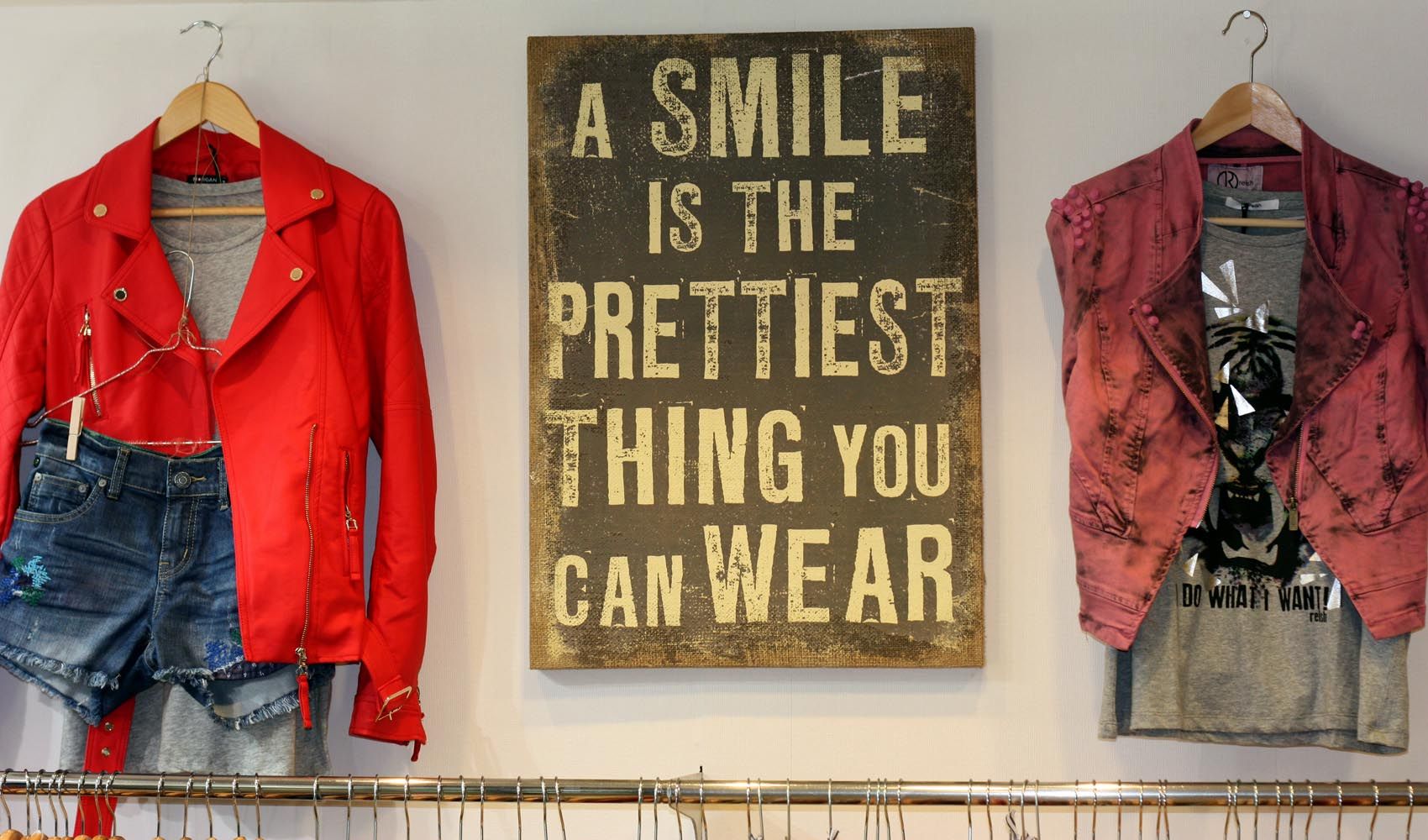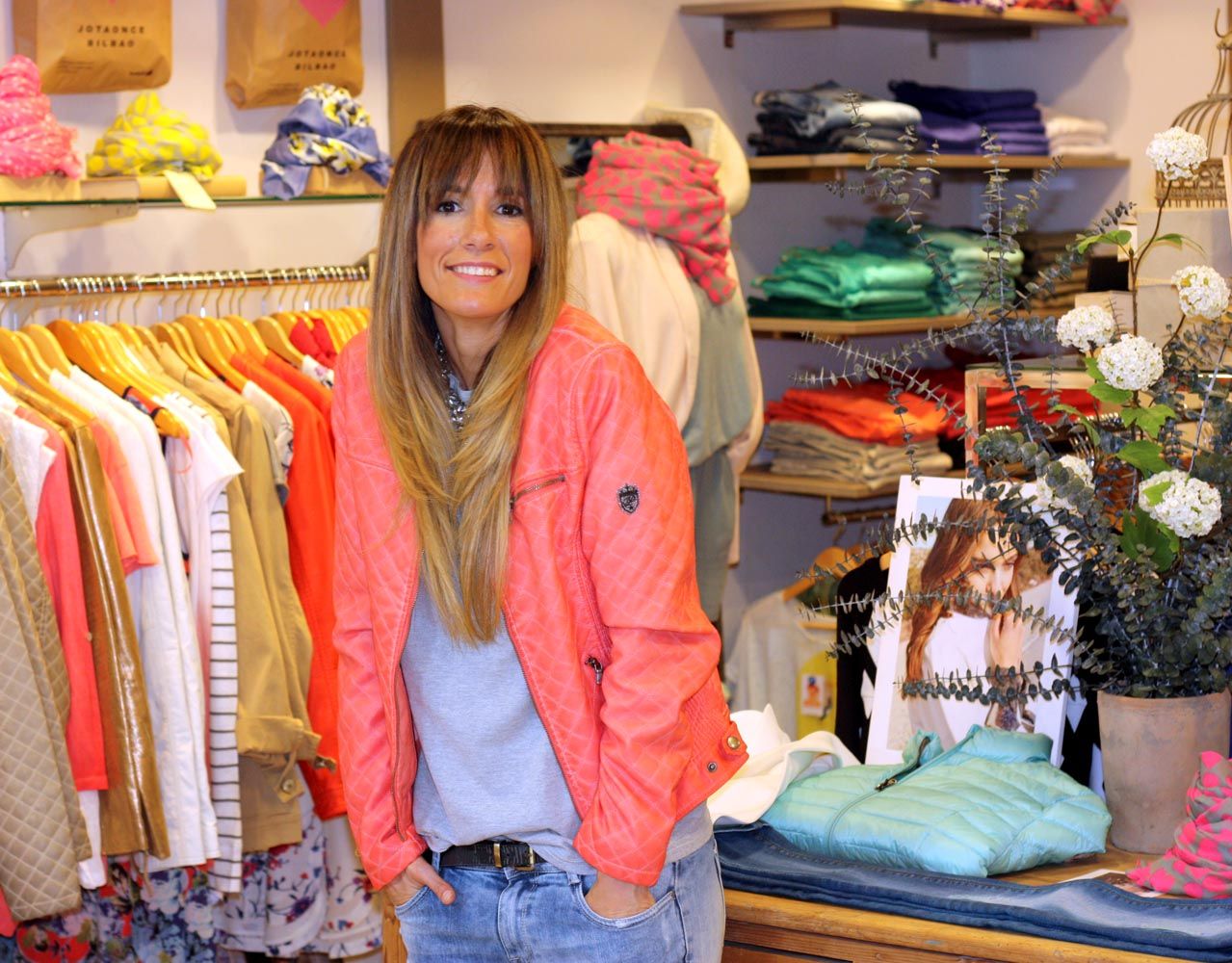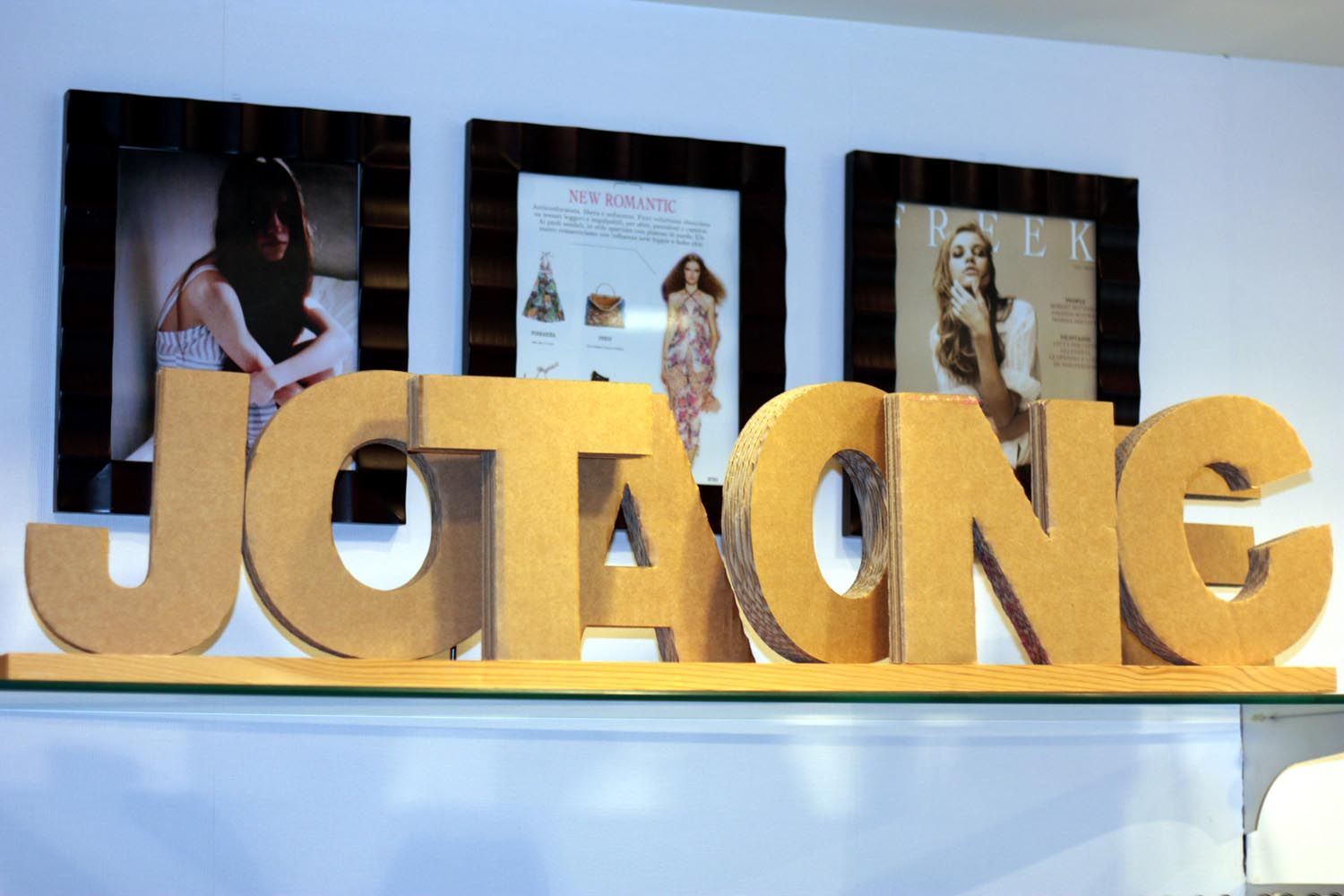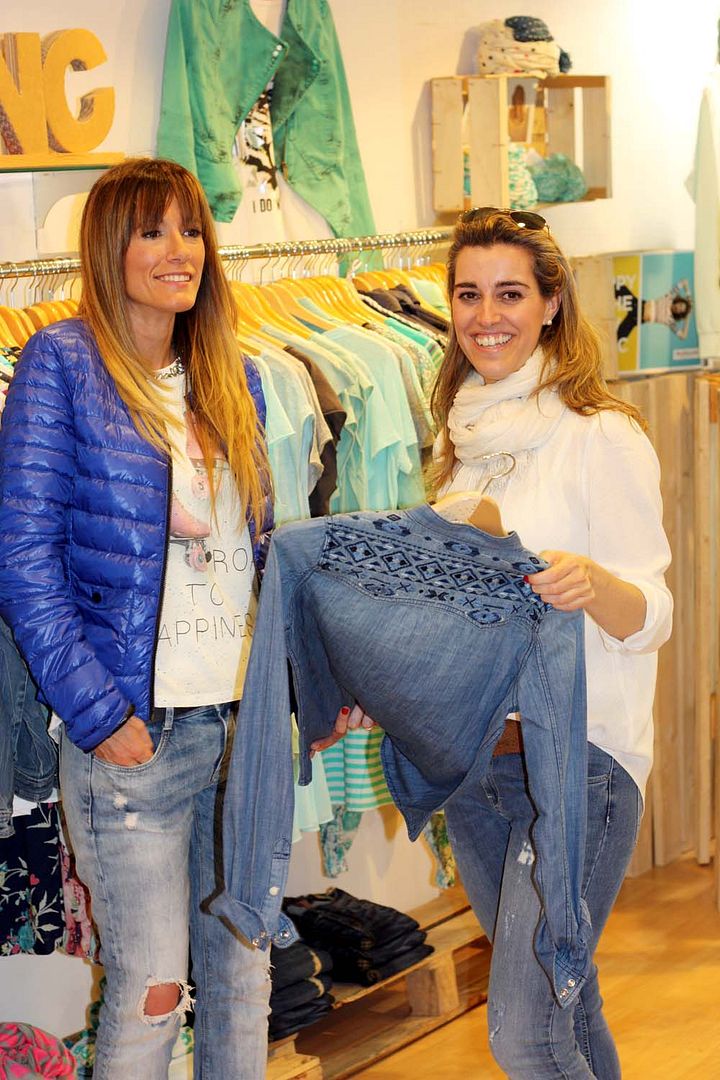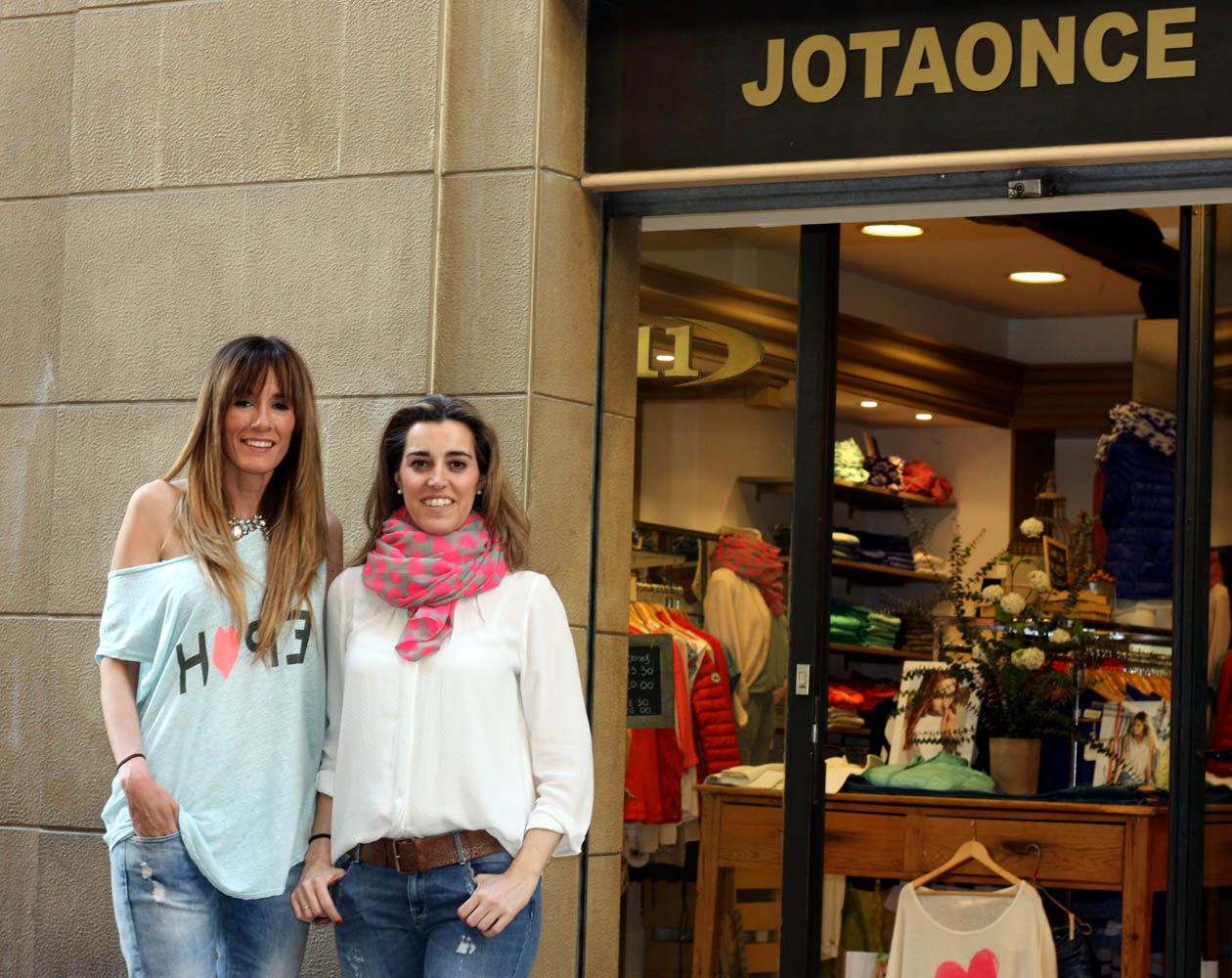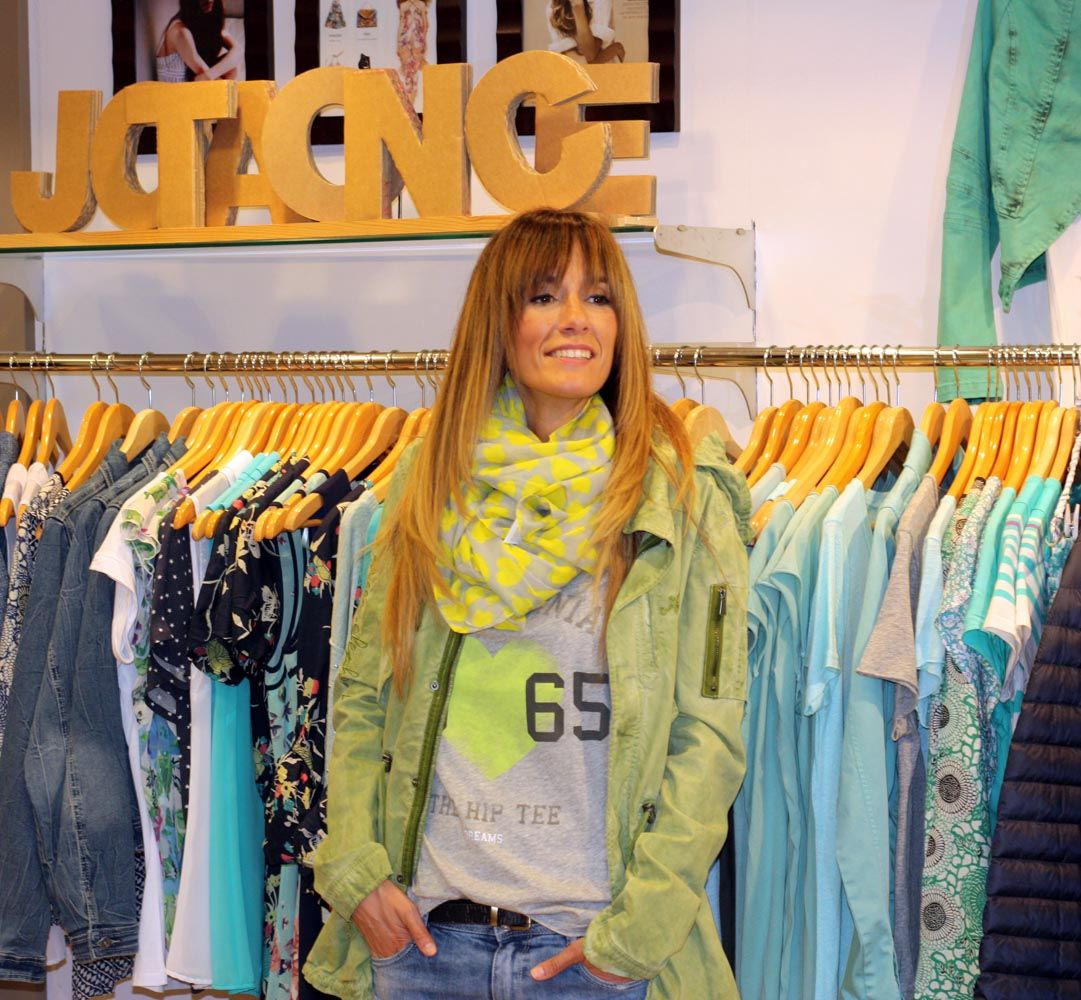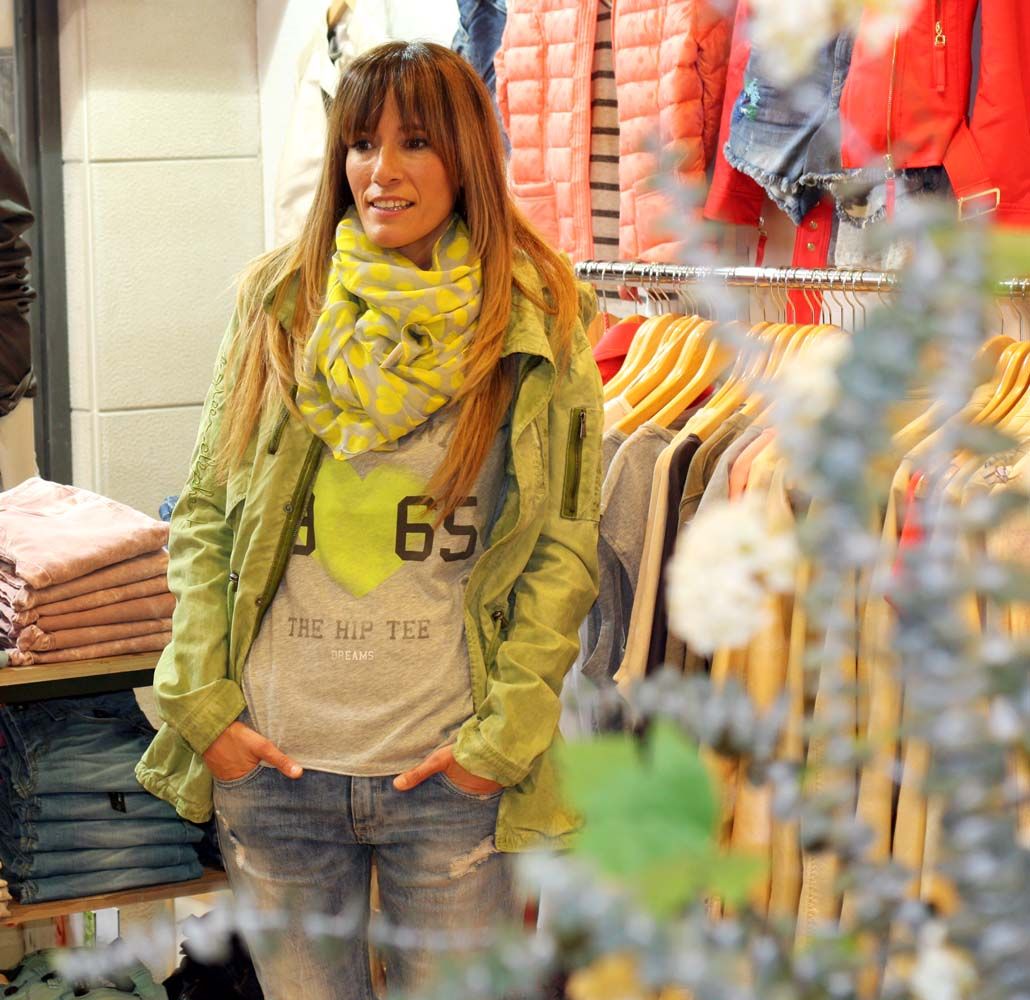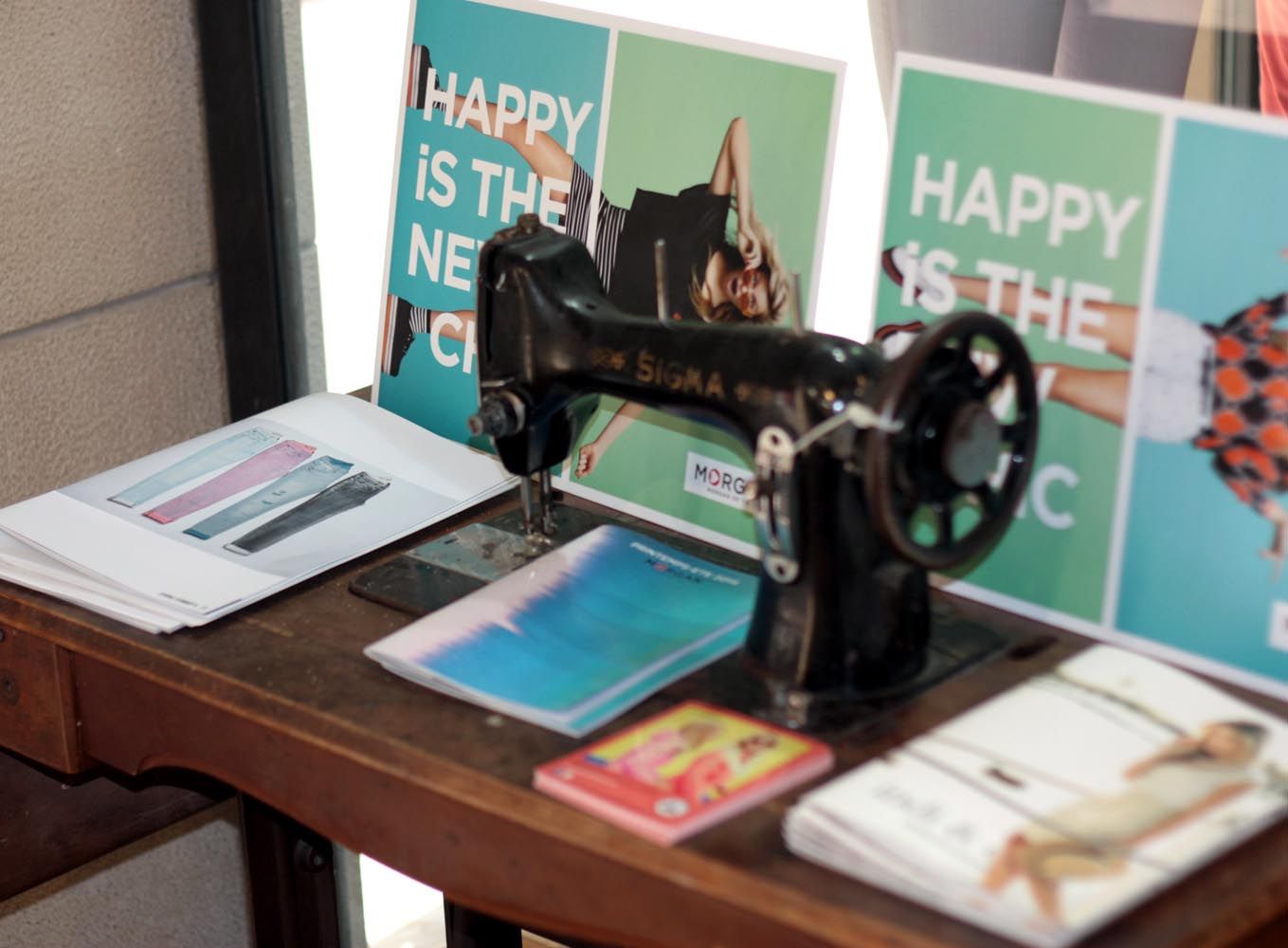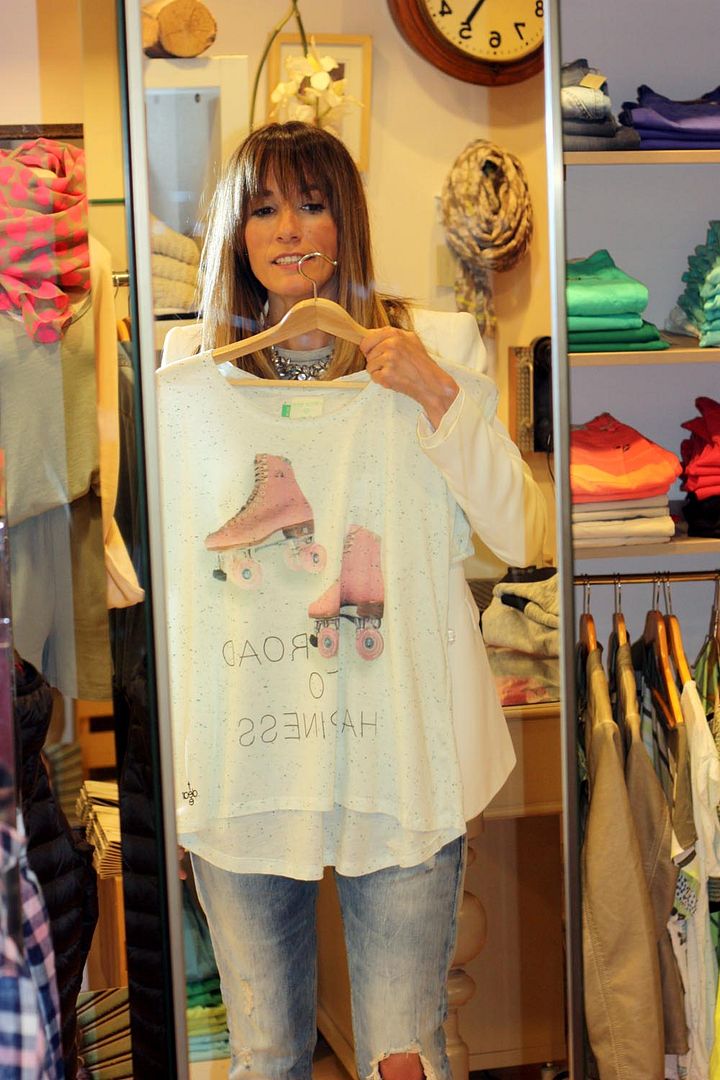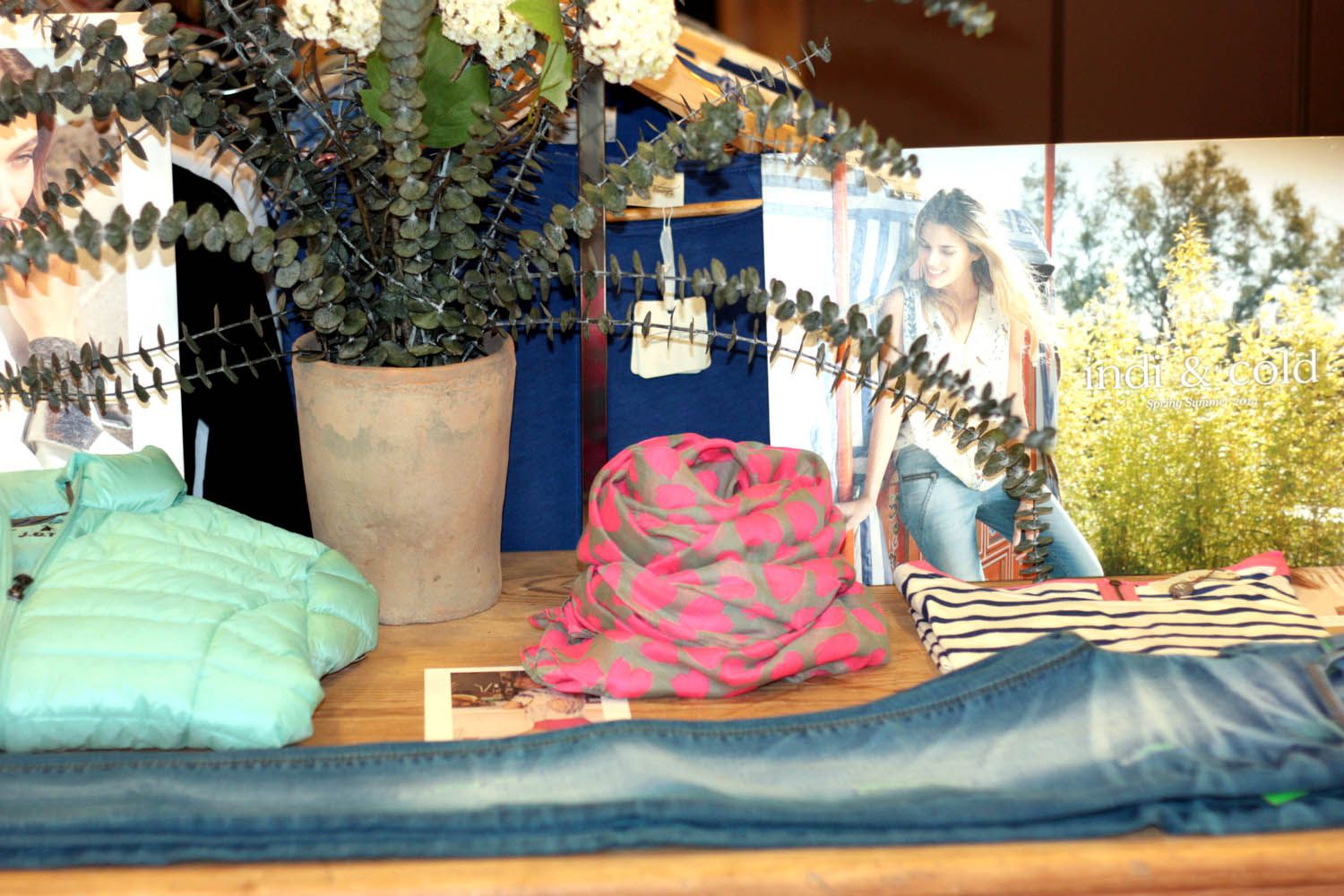 Puedes visitar y comprar la colección de Jotaonce Bilbao pinchando aquí.