Warning
: preg_match(): Compilation failed: invalid range in character class at offset 4 in
/homepages/31/d217702339/htdocs/rebelattitude/wp-content/plugins/hover-pin-it/lib/simple_html_dom.php
on line
1110
Warning
: preg_match(): Compilation failed: invalid range in character class at offset 4 in
/homepages/31/d217702339/htdocs/rebelattitude/wp-content/plugins/hover-pin-it/lib/simple_html_dom.php
on line
1110
Warning
: preg_match(): Compilation failed: invalid range in character class at offset 4 in
/homepages/31/d217702339/htdocs/rebelattitude/wp-content/plugins/hover-pin-it/lib/simple_html_dom.php
on line
1110
Warning
: preg_match(): Compilation failed: invalid range in character class at offset 4 in
/homepages/31/d217702339/htdocs/rebelattitude/wp-content/plugins/hover-pin-it/lib/simple_html_dom.php
on line
1110
Warning
: preg_match(): Compilation failed: invalid range in character class at offset 4 in
/homepages/31/d217702339/htdocs/rebelattitude/wp-content/plugins/hover-pin-it/lib/simple_html_dom.php
on line
1110
Warning
: preg_match(): Compilation failed: invalid range in character class at offset 4 in
/homepages/31/d217702339/htdocs/rebelattitude/wp-content/plugins/hover-pin-it/lib/simple_html_dom.php
on line
1110
Warning
: preg_match(): Compilation failed: invalid range in character class at offset 4 in
/homepages/31/d217702339/htdocs/rebelattitude/wp-content/plugins/hover-pin-it/lib/simple_html_dom.php
on line
1110
Warning
: preg_match(): Compilation failed: invalid range in character class at offset 4 in
/homepages/31/d217702339/htdocs/rebelattitude/wp-content/plugins/hover-pin-it/lib/simple_html_dom.php
on line
1110
Warning
: preg_match(): Compilation failed: invalid range in character class at offset 4 in
/homepages/31/d217702339/htdocs/rebelattitude/wp-content/plugins/hover-pin-it/lib/simple_html_dom.php
on line
1110
Warning
: preg_match(): Compilation failed: invalid range in character class at offset 4 in
/homepages/31/d217702339/htdocs/rebelattitude/wp-content/plugins/hover-pin-it/lib/simple_html_dom.php
on line
1110
Warning
: preg_match(): Compilation failed: invalid range in character class at offset 4 in
/homepages/31/d217702339/htdocs/rebelattitude/wp-content/plugins/hover-pin-it/lib/simple_html_dom.php
on line
1110
Warning
: preg_match(): Compilation failed: invalid range in character class at offset 4 in
/homepages/31/d217702339/htdocs/rebelattitude/wp-content/plugins/hover-pin-it/lib/simple_html_dom.php
on line
1110
Warning
: preg_match(): Compilation failed: invalid range in character class at offset 4 in
/homepages/31/d217702339/htdocs/rebelattitude/wp-content/plugins/hover-pin-it/lib/simple_html_dom.php
on line
1110
Warning
: preg_match(): Compilation failed: invalid range in character class at offset 4 in
/homepages/31/d217702339/htdocs/rebelattitude/wp-content/plugins/hover-pin-it/lib/simple_html_dom.php
on line
1110
Warning
: preg_match(): Compilation failed: invalid range in character class at offset 4 in
/homepages/31/d217702339/htdocs/rebelattitude/wp-content/plugins/hover-pin-it/lib/simple_html_dom.php
on line
1110
Warning
: preg_match(): Compilation failed: invalid range in character class at offset 4 in
/homepages/31/d217702339/htdocs/rebelattitude/wp-content/plugins/hover-pin-it/lib/simple_html_dom.php
on line
1110
Warning
: preg_match(): Compilation failed: invalid range in character class at offset 4 in
/homepages/31/d217702339/htdocs/rebelattitude/wp-content/plugins/hover-pin-it/lib/simple_html_dom.php
on line
1110
Warning
: preg_match(): Compilation failed: invalid range in character class at offset 4 in
/homepages/31/d217702339/htdocs/rebelattitude/wp-content/plugins/hover-pin-it/lib/simple_html_dom.php
on line
1110
Warning
: preg_match(): Compilation failed: invalid range in character class at offset 4 in
/homepages/31/d217702339/htdocs/rebelattitude/wp-content/plugins/hover-pin-it/lib/simple_html_dom.php
on line
1110
Warning
: preg_match(): Compilation failed: invalid range in character class at offset 4 in
/homepages/31/d217702339/htdocs/rebelattitude/wp-content/plugins/hover-pin-it/lib/simple_html_dom.php
on line
1110
Warning
: preg_match(): Compilation failed: invalid range in character class at offset 4 in
/homepages/31/d217702339/htdocs/rebelattitude/wp-content/plugins/hover-pin-it/lib/simple_html_dom.php
on line
1110
Warning
: preg_match(): Compilation failed: invalid range in character class at offset 4 in
/homepages/31/d217702339/htdocs/rebelattitude/wp-content/plugins/hover-pin-it/lib/simple_html_dom.php
on line
1110
Warning
: preg_match(): Compilation failed: invalid range in character class at offset 4 in
/homepages/31/d217702339/htdocs/rebelattitude/wp-content/plugins/hover-pin-it/lib/simple_html_dom.php
on line
1110
Warning
: preg_match(): Compilation failed: invalid range in character class at offset 4 in
/homepages/31/d217702339/htdocs/rebelattitude/wp-content/plugins/hover-pin-it/lib/simple_html_dom.php
on line
1110
Warning
: preg_match(): Compilation failed: invalid range in character class at offset 4 in
/homepages/31/d217702339/htdocs/rebelattitude/wp-content/plugins/hover-pin-it/lib/simple_html_dom.php
on line
1110
Warning
: preg_match(): Compilation failed: invalid range in character class at offset 4 in
/homepages/31/d217702339/htdocs/rebelattitude/wp-content/plugins/hover-pin-it/lib/simple_html_dom.php
on line
1110
Warning
: preg_match(): Compilation failed: invalid range in character class at offset 4 in
/homepages/31/d217702339/htdocs/rebelattitude/wp-content/plugins/hover-pin-it/lib/simple_html_dom.php
on line
1110
Warning
: preg_match(): Compilation failed: invalid range in character class at offset 4 in
/homepages/31/d217702339/htdocs/rebelattitude/wp-content/plugins/hover-pin-it/lib/simple_html_dom.php
on line
1110
Warning
: preg_match(): Compilation failed: invalid range in character class at offset 4 in
/homepages/31/d217702339/htdocs/rebelattitude/wp-content/plugins/hover-pin-it/lib/simple_html_dom.php
on line
1110
Warning
: preg_match(): Compilation failed: invalid range in character class at offset 4 in
/homepages/31/d217702339/htdocs/rebelattitude/wp-content/plugins/hover-pin-it/lib/simple_html_dom.php
on line
1110
Warning
: preg_match(): Compilation failed: invalid range in character class at offset 4 in
/homepages/31/d217702339/htdocs/rebelattitude/wp-content/plugins/hover-pin-it/lib/simple_html_dom.php
on line
1110
Warning
: preg_match(): Compilation failed: invalid range in character class at offset 4 in
/homepages/31/d217702339/htdocs/rebelattitude/wp-content/plugins/hover-pin-it/lib/simple_html_dom.php
on line
1110
Warning
: preg_match(): Compilation failed: invalid range in character class at offset 4 in
/homepages/31/d217702339/htdocs/rebelattitude/wp-content/plugins/hover-pin-it/lib/simple_html_dom.php
on line
1110
Warning
: preg_match(): Compilation failed: invalid range in character class at offset 4 in
/homepages/31/d217702339/htdocs/rebelattitude/wp-content/plugins/hover-pin-it/lib/simple_html_dom.php
on line
1110
Warning
: preg_match(): Compilation failed: invalid range in character class at offset 4 in
/homepages/31/d217702339/htdocs/rebelattitude/wp-content/plugins/hover-pin-it/lib/simple_html_dom.php
on line
1110
Warning
: preg_match(): Compilation failed: invalid range in character class at offset 4 in
/homepages/31/d217702339/htdocs/rebelattitude/wp-content/plugins/hover-pin-it/lib/simple_html_dom.php
on line
1110
Warning
: preg_match_all(): Compilation failed: invalid range in character class at offset 4 in
/homepages/31/d217702339/htdocs/rebelattitude/wp-content/plugins/hover-pin-it/lib/simple_html_dom.php
on line
618
Warning
: Invalid argument supplied for foreach() in
/homepages/31/d217702339/htdocs/rebelattitude/wp-content/plugins/hover-pin-it/lib/simple_html_dom.php
on line
625
Warning
: preg_match_all(): Compilation failed: invalid range in character class at offset 4 in
/homepages/31/d217702339/htdocs/rebelattitude/wp-content/plugins/hover-pin-it/lib/simple_html_dom.php
on line
618
Warning
: Invalid argument supplied for foreach() in
/homepages/31/d217702339/htdocs/rebelattitude/wp-content/plugins/hover-pin-it/lib/simple_html_dom.php
on line
625
Estoy recién llegada de Turquía y hecha polvo (enfermedad incluida) así que hoy sólo os traigo el look de mi segundo día en Estambul y, el próximo día, os mostraré fotos más impresionantes de esa mágica ciudad, ¿os parece?
¡Ah! Por algún error no se publicó en el post NECK la procedencia de las prendas y me lo habéis preguntado muchas personas.  ¡Perdonad! Podéis comprobarlo pinchando aquí.
I´ve just come back from Turkey really exhausted and illness included, so today I only bring you my second look from Istanbul.  Next day I´ll show you more pics from that magical city.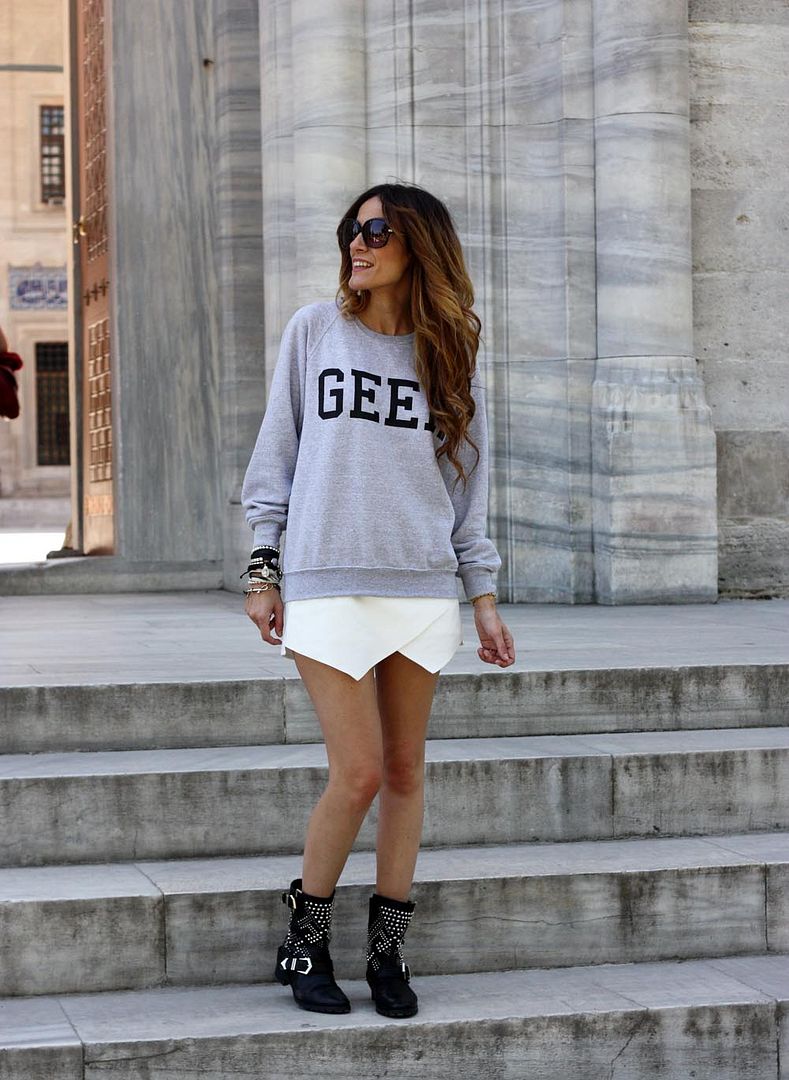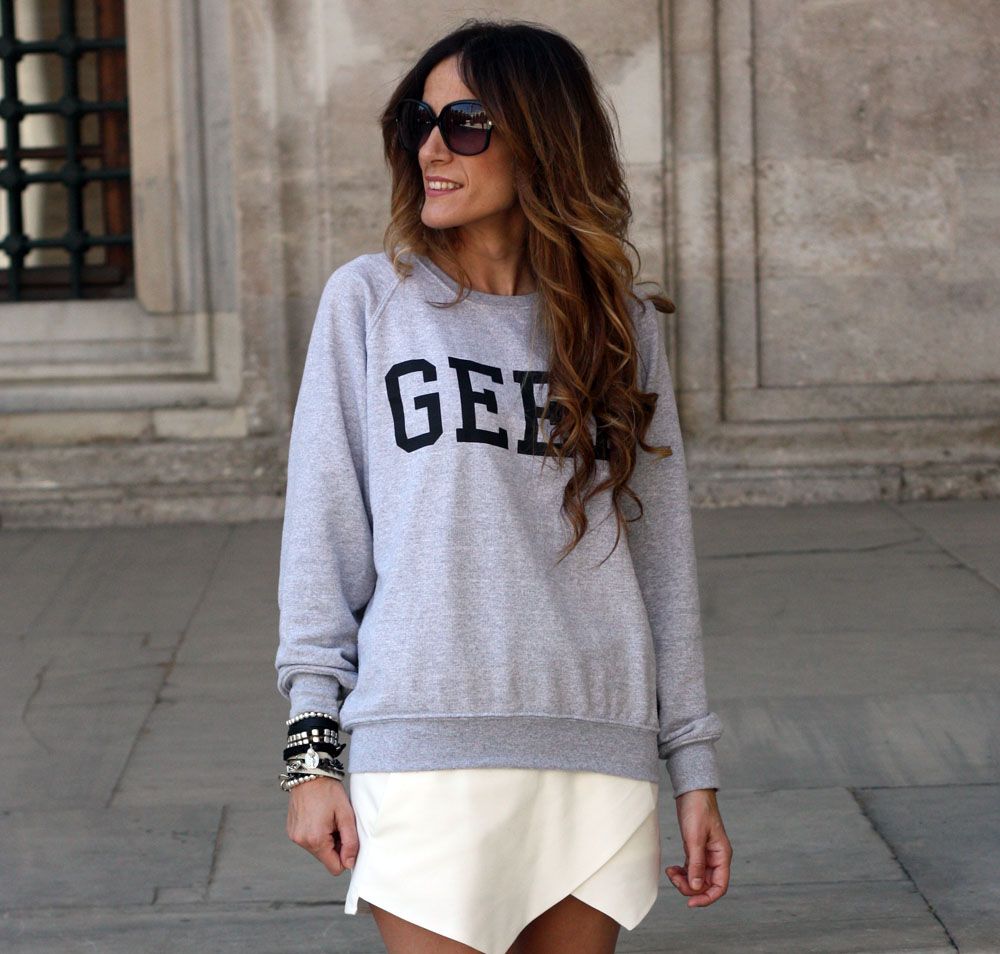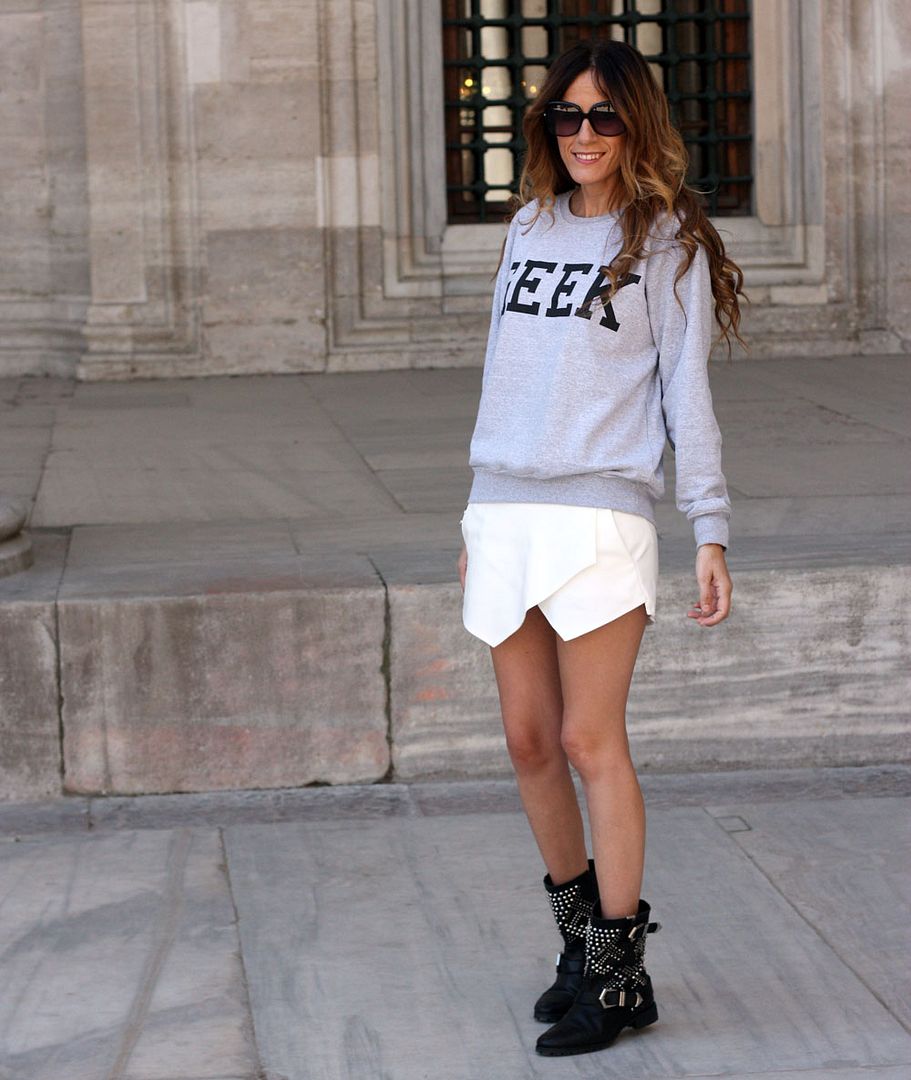 Falda – skirt – Zara (ss 2013)
Jersey – sweater – Topshop
Botas – booties – Zara (ss 2013)
Pulseras- bracelets – Mes Petits Details